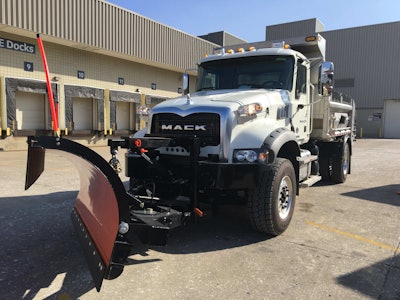 In 2017, I logged 62,781 air miles en route to trucking events across the U.S., Canada and Mexico and many of those miles were ticked en route to test drives – 17 of them, in fact.
A big part of my job is climbing behind the wheel of trucks, and occasionally vans, but this year has been one for the record books. Mack, Volvo and International each debuted new trucks this year and a host of new component technologies also hit the market. Other OEMs, ones who didn't launch new models, updated designs and features of existing models.
Below is a brief rewind of the year in test drives incase you missed any of them when they were originally published.
The year kicked off with Mack's Granite MHD, a standard Granite model is refitted with lighter components, like a Cummins 9-liter ISL, Allison 3000 RDS six-speed automatic transmission and in some cases lighter frame rails, axles and suspensions. The end result is a scaled down Class 8 truck, which provides a larger cab and increased rigidity.
Next up was Kenworth's T880S, a truck that at its core is a T880 but with some added features that improve upon the W900S model it likely will replace. Kenworth's venerable W900S was practically purpose-built for mixer operations but adaptable enough to find itself in a variety of vocational applications. The T880S was designed with more flexibility right off the assembly line, making upfitting easier, more customizable and more streamlined.
My third drive of the year was also my biggest – literally. The Western Star XD-25 is a hulked up 4900 with 25 tons of capability. The XD-25 is a torque monster, but equipped with a high-speed planetary that gives it a top speed of about 65 miles per hour it's highway capable. The Series 60 engine puts out about 505 hp and 1550 lb. ft. of torque – about a 300 lb. ft. less than you'll be able to squeeze from a DD13 at a lower RPM.
Drive No. 4 looks far more traditional than No. 3. Western Star's "Wings of Awesomeness" package takes a Western Star to another level – a level fraught with retro Smokey and the Bandit vibes.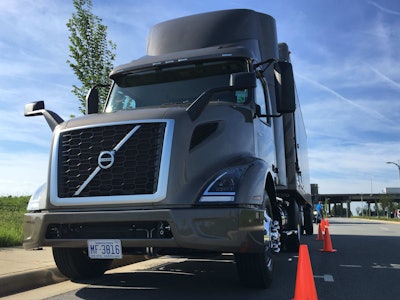 Next up was a milestone truck. Volvo's VNR tractor, which debuted publicly in April as the heir apparent to the VNM, is what the company calls "the future of regional haul." On the market for more than two decades, Volvo's VNM tractor was dated and overdue for a refresh but VNR designers did much more than simply modernize body lines.
My first trip to Shea Stadium came about nine years too late, but the grounds where the field once stood served as a starting point for a test drive of Isuzu's FTR. The Michigan-built 2018 FTR – the company's first truck to be principally designed, engineered and built in the U.S. – gets the same 5.2-liter four-cylinder 215-hp diesel engine offered in the upper end of Isuzu's N-Series, but its match with an Allison six-speed automatic transmission with left-hand power-takeoff capability gives the powertrain about 70 more foot-pounds of torque – up to 520 lb.-ft. Isuzu opted for the Allison 2550 transmission over the Allison 2500 for the inclusion of a parking gear, making it safer for drivers with limited experience using air brakes.
Navistar also refreshed its regional entry this year. Little influence remains from the ProStar 113-inch BBC and the TranStar 107 models that the International RH will soon supplant. The chassis has been light-weighted, with the rear suspension coming in about 130 pounds lighter than comparable models. International left no stone unturned when it came to shedding weight. For example, with the integration of cast aluminum fuel tank hangers, the truck dropped 60 pounds.
While we all wait for trucks to drive themselves, ZF is focusing its latest innovation on making a mundane daily driving requirement a little easier. Among the things the company plans to roll out in the months ahead is its ReAX platform, a column-mounted electrically-assisted hydraulic steering system. The unit uses sensors to determine driving conditions, and then controls an electric motor in the steering column to provide the appropriate torque feedback to the driver.
The introduction of an automated transmission in August signaled both Kenworth's and Peterbilt's transition to its first built in-house gearbox for the T680 Advantage and Model 579 Epiq, respectively. I took the new gear gearbox – outfitted in a Peterbilt Model 579 EPIQ and matched to a 455hp MX-13 engine – for a 120-plus mile spin around Decatur, Texas.
For more than 20 years, Volvo's VNL has been the torchbearer of the company's U.S. truck catalog and this year it got refreshed, borrowing several design cues from its VNR regional-haul sister, which was introduced earlier this year as the successor to the VNM, and Volvo's SuperTruck project.
After more than a decade on the highway, Mack's Pinnacle tractor will yield its position as the company's flagship long-haul truck to the Anthem. My test drive of the Anthem stretched more than 800 miles and holds the distinction of the longest one I've ever done.
Following three years of development and barely 90 days after Eaton and Cummins announced a formal joint powertrain partnership, Eaton's Endurant 12 speed automated transmission was officially born last month. I went to Michigan in October to drive it.
A fully-electric powertrain is all-the-buzz in commercial transportation these days, but the problem is that it's somewhat of a unicorn on the road. I took Chanje's unicorn for a test drive a few months ago in Brooklyn, N.Y.
Not every test drive is a commercial vehicle. Sometimes, it's something completely unrelated that has some underlying technology that has possible applications in trucking. Such was the case with the Nikola Zero UTV, which features some of the technologies the company plans to introduce on its tractor in the months ahead.
If there was a polar opposite of a tractor trailer, Tesla's Model S just might be it. But in advance of the debut of Tesla's electric Semi in November, I got some wheel time behind one of the quickest production cars in the world.
Finally, we have a very exclusive group of trucks that I was able to drive this year. Each trucking OEM has a SuperTruck project in the pipeline and I was able to drive two: International's CatalIST and Volvo's SuperTruck.