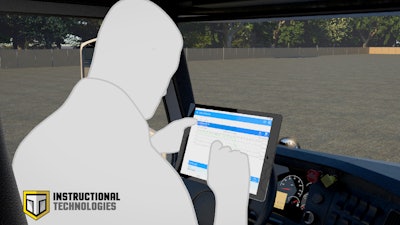 Instructional Technologies Inc. (ITI), providers of online training systems for the transportation industry, has created an Introduction to Electronic Logging Devices course that covers the basics of ELDs for drivers, and allows carriers to customize the training to meet company-specific needs.
"Understanding the basics of using ELDs is important for all drivers," said Nathan Stahlman, chief operating officer at ITI, adding that the new course "helps ease the stress of using this new technology, saving drivers time and reducing frustration."
Introduction to Electronic Logging Devices provides drivers with information on: logging in an out of an ELD, the different duty statuses, ELD responsibilities, and reasons for keeping an electronic log.
By using ITI's Sentix platform for managing training, carriers can host ELD supplier training videos as PRO-TREAD courses, and can add quizzes and sections about standard company operating procedures to the Electronic Logging Devices course.
ITI also offers two hours-of-service training programs, which are updated as new rules and regulations go into effect.
ITI says it is known for its effective mastery learning training strategy by which the student must 'master' each subject before moving to the next. The online strategy is proven to improve employee safety behaviors and provide defensible proof that students have mastered a topic.