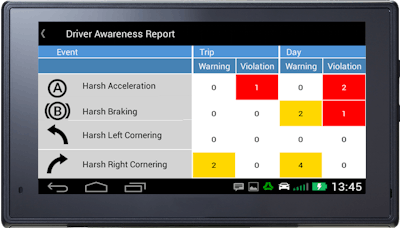 Mobile fleet management systems continue to expand the reservoir of driver performance and risk data. As the volume of data rises, new applications are controlling the flow of intelligence to fleet managers and drivers to immediately act on.
Cameras are contributing to the expansion of data on driving behaviors, and they may soon be standard equipment on vehicles. The SuperTruck concepts from leading manufacturers incorporate as many as 12 cameras for a 360-degree views from the cockpit.
Companies that supply mobile fleet management technologies will soon be working with OEMs to integrate new camera systems into their future platforms.
Fleet mobility provider PeopleNet rolled out a Video Intelligence product in 2016 that gives users access to video and event data captured by its Onboard Event Recording (OER) application. Jim Angel, vice president of the company's Video Intelligence solutions, says the platform is ready to incorporate additional feeds from vehicle camera systems.
Video and critical event data from vehicles is transmitted to the cloud and accessed by fleets using the online PeopleNet Fleet Manager (PFM) portal. As part of the solution, fleets get a Safety Analytics dashboard that identifies the most at-risk drivers in the fleet.
To date, the company has more than 35,000 drivers in the Safety Analytics system, he says.
PeopleNet uses a four-tier scoring system in the Safety Analytics dashboard. The scoring mirrors the crash predictors found in a 2005 and updated 2011 study from the American Transportation Research Institute and has data visualization tools that identify drivers by degree of risk.
Drivers with scores in the top 10 percent in each category, and the top 10 percent overall, are highlighted in red followed by yellow and green for the top performers.
The dashboard and scoring system utilizes data captured by the PeopleNet system that includes violations of posted speed limits and hours of service, and also brings in daily CSA violation data through partnership with Vigillo.
In addition to the Safety Analytics dashboard, the PFM portal comes with a 10-column driver scorecard. Fleets that use products from PeopleNet's data analytics firm, Vusion, can use some of these columns for more advanced metrics.
Vusion is currently working on new mathematical formulas to identify leading, predictive indicators of driver risk, he says. For example, analysis may show that unsafe drivers are more likely to not use seatbelts or not complete pre- and post-trip inspections.
"You can get a lot deeper," Angel says.
Prescriptive coaching
Technology can go beyond using data science to predict which drivers are riskiest. The next step is to determine the best corrective action using prescriptive analytics, explains Sid Nair, senior director, transportation practice, at Teletrac Navman.
As an example of prescriptive analytics, Teletrac Navman's mobile fleet management platform has a driver scorecard that shows drivers what percentile they are in for each metric, and what behaviors they need to focus on to improve.
One of the unique metrics that fleets can track in the scorecard is stop sign violations. The system compares the location and movement of the vehicle to a database of stop signs, he says, to instantly detect if the driver rolled through a stop sign or waited for a second or two.
Teletrac Navman also has a module that brings together prescriptive analytics and coaching. The module, called Adaptive Intelligence, has become popular in Australia because of the country's laws that place more liability for accidents on the fleet owners, Nair says.
With Adaptive Intelligence, the driver scorecard can be tied to online driver training modules. If a driver has a certain number of harsh braking incidents, for example, the system will automatically trigger an assignment to the driver to take a training module on defensive driving.
CCJ will cover more advancements in driver performance technologies in the coming days.