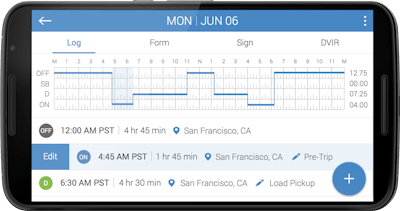 ELD provider KeepTruckin has a new strategic alliance with Coyote Logistics, a UPS company and third-party logistics service provider, wherein Coyote will be offering KeepTruckin's FMCSA-compliant ELD system to over 40,000 carriers in its network.
Although the ELD mandate has been implemented on December 18, 2017, it has been estimated that nearly 28 percent of truckers are still without compliant electronic logging devices.
"Some carriers have had apprehension regarding ELD implementation," said Jonathan Sisler, President of Coyote.
Coyote says it wanted to minimize carriers' concerns regarding the ELD mandate implementation and simplify compliance by offering a feature-rich and compliant ELD at an affordable price.
"At Coyote, we are always looking for ways to use our scale and density to facilitate carriers running successful businesses. We are also deeply committed carrier compliance," Sisler said. "We felt that KeepTruckin has the best product for the carriers in our rapidly growing network."
Through Coyote's discount, carriers will be able to buy the KeepTruckin ELD at a discounted price of $16 per month per vehicle.
Shoaib Makani, chief executive of KeepTruckin, said that its partnerships with top 3PLs like Coyote Logistics will also help carriers improve utilization and generate more revenue. Carriers do not currently use the KeepTruckin ELD for matching loads, but that could change.
"The first step toward building a more efficient freight marketplace is to allow carriers to share their vehicle location and driver availability with third parties in real time," he said. "KeepTruckin makes that incredibly easy. Carriers can choose exactly who they want to share their data with — brokers, load boards, transportation management systems, and many others."