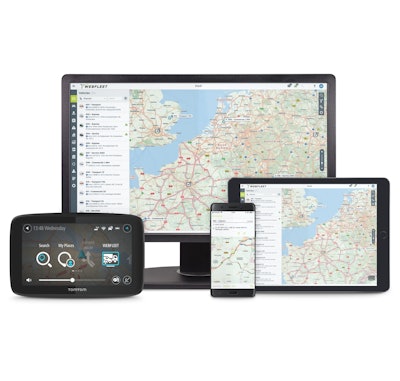 TomTom Telematics announced a new fleet management product line-up featuring a rebuilt software-as-a-service Webfleet system with new features and a more intuitive user experience with advanced customization capabilities.
The revamped software can be coupled with a new range of TomTom PRO driver terminals for job dispatch and routing, navigation and traffic information.
"We have drawn upon more than 18 years of fleet management expertise to develop our next generation products, incorporating feedback from our 48,000-strong global customer base," said Torsten Grunzig, director of sales for TomTom Telematics North America.
The Webfleet interface will facilitate faster development and deployment of connected partner applications, enabling the technology to adapt and evolve according to customers' needs, the company says.
One of the newly enhanced features enables managers to pre-plan specific routes using an increased range of criteria. The pre-defined routes can be sent directly to drivers via the new TomTom PRO 5350/7350 driver terminals.
Webfleet maps and reports can be more extensively customized to suit individual preferences. The interface has also been optimized for tablets to offer greater access on any screen.
The new Webfleet is available to all TomTom Telematics customers and its new TomTom PRO driver terminals will be available in North America in April.