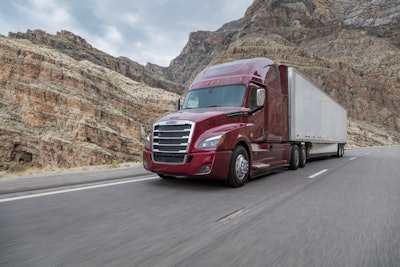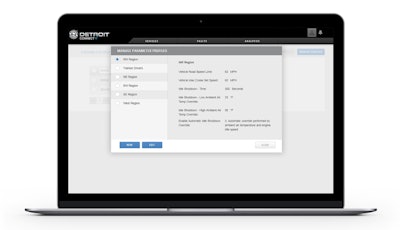 Freightliner has added Detroit Connect Remote Updates for Cascadia tractors spec'd with Detroit engines, the company announced Wednesday.
Through Remote Updates, fleets can make over-the-air (OTA) engine parameter changes on one or more trucks and download Detroit Diesel Electronic Control (DDEC) reports without having to physically touch the vehicle. Remote Updates can be easily implemented remotely via the Detroit Connect portal.
"Customers don't need to call us to make updates," says Jason Krajewski, director of connectivity for Daimler Trucks North America.
The Remote Updates service is cellular-based, allowing parameter changes, DDEC downloads and powertrain firmware updates to be made securely via the Detroit Connect portal, anywhere, at any time so long as there is a cellular connection.
Remote Updates allow customers to make changes to parameters on the new Cascadia, specifically road speed, cruise speed, idle shutdown by time and idle shutdown by temperature. Krajewski says it also provides access to DDEC reports, which offer key metrics on driver behavior and vehicle performance. It provides insights on fuel economy, time spent in top gear, time spent in cruise control and more.
Remote Updates is enabled by the Detroit Connect platform and is part of the Detroit Connect suite of connected vehicle services, which also includes Detroit Connect Virtual Technician and Detroit Connect Analytics.
All Detroit Connect services are accessible via the Detroit Connect portal. Through the portal, fleet managers can access vehicle fault event and performance data to further deepen their knowledge about their overall fleet health.