In 1998, a San Diego company, DriveCam, launched a windshield-mounted device that could automatically record pre- and post-event footage of collisions.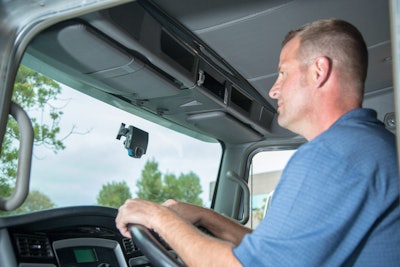 The video event records were triggered when an accelerometer detected excessive g-forces.
The major selling point of the DriveCam device was its potential to reduce accident claims costs. Fleets saw the value of having video evidence of accident culpability, even if it might be self-incriminating at times.
Twenty years have passed since the original DriveCam started a new era in risk management. One of many milestones in the company's evolution was a rebranding in 2013, at which time it became Lytx to reflect the company's prowess with analytics, not just video, to help fleets manage safety and risk.
A managed service
To date, Lytx has captured and analyzed more than 80 billion miles of driving data through the DriveCam program. The term "program" best describes what the technology became in the first year or two in business.
Soon after fleets began deploying the original DriveCam device, the company realized it had utility beyond recording collisions, says Brandon Nixon, chief executive officer. Fleets were using data from the accelerometer and video event footage to identify risky driving behaviors.
Reviewing videos to detect risky driving behaviors consumed valuable internal resources. In 2005, Lytx decided to leverage the cellular network to automatically upload event videos from the vehicle to its own review center.
"We went from being a technology provider to being a service provider," Nixon says. "That was absolutely the right move as it allowed our clients to focus on what they do best — the coaching of drivers."
Predictive analytics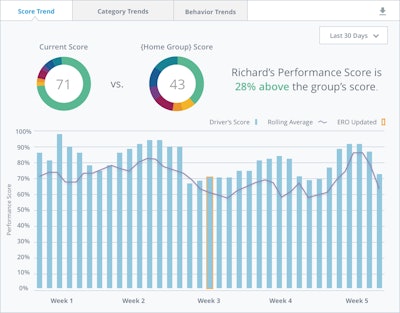 With DriveCam as a managed service, new orders came in from large fleets such as Sysco, U.S. Foods and Waste Management. To meet the robust needs of these and other clients, Lytx decided to sharpen its focus on predictive analytics to help its customers run the program more efficiently.
"We had to score events, score drivers and prioritize drivers as to which ones are the riskiest on the road and have the types of behaviors that lead to collisions," he says.
In 2011, Cargo Transporters signed up for the DriveCam program. The Claremont, N.C.-based company was the first large client of Lytx in the long-haul trucking sector.
"We were interested in the DriveCam program at the time mainly to help defend our drivers," says John Pope, chairman of Cargo Transporters which operates a fleet of 525 trucks. "But as we started using the device, we were seeing things that drivers were doing that didn't necessary put them or us in immediate danger, but that we could improve upon."
Training drivers
As a pioneer in the use of video event recorders, Cargo Transporters faced some early resistance from a few drivers as it introduced the technology.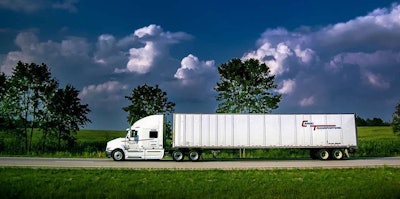 "We did a rather extensive educational program," says Pope. "We had an information session with each driver before we did the install to explain what (DriveCam) was, what it was capturing, and what it was not capturing."
Cargo Transporters uses outward and driver-facing cameras with the DriveCam program. A few drivers — less than a half-dozen — "didn't even want to give it a try," he says.
As the program captures risky behaviors, fleet managers talk to drivers by phone about the less critical incidents, such as not wearing a seatbelt. For more serious events, managers review video with drivers in person. They also use event records to recognize drivers for safety.
Cargo Transporters uses a number of other safety technologies. Attributing safety achievements to a single system is therefore difficult, Pope says, but since it began using DriveCam the company has "certainly seen a reduction in frequency and also in severity of accidents."
Machine learning
In 2011, about the same time Cargo Transporters deployed the technology, Lytx started developing machine learning capabilities for its DriveCam platform. The efforts led to an optional service in 2015, ActiveVision, that layers on the DriveCam platform to detect additional patterns of risk.
Cargo Transporters is upgrading to the ActiveVision platform by installing the new devices in vehicles added to the fleet through trade cycles. The ActiveVision platform uses additional sensor data as well as machine learning to detect patterns of risk that include lane departures, distracted driving and unsafe following distances.
Looking to the future, Pope is interested in a new Lytx platform called Lytx Video Services (LVS) to capture video events from cameras that provide a 360-degree view of a tractor-trailer.
Drop-and-hook trailer operations may complicate the realization of this wish, but Pope sees the benefit of having more cameras and real-time analytical capabilities to provide drivers with more immediate feedback of risk in their environment as well as their overall performance.
LVS is the latest enhancement to the DriveCam program that offers an always-on capability for video retrieval with side-view and other expandable options for a full view around the vehicle. Lytx plans to apply machine learning and artificial intelligence to LVS to better understand and predict risk in driving and non-driving events.
"Innovations come from listening to clients for what they want us to do," Nixon says.
Building scale
As vehicles continue to get smarter with more autonomous driving capabilities, Nixon sees the value of video-based safety systems increasing. For better or worse, drivers will adapt their behaviors to operate a vehicle as a pilot. This could lead to drivers paying less attention to risks in their environment.
Video will help fleets to ensure that drivers stay engaged in both driving and non-driving work, he says, and the use of machine vision will make it possible to give drivers more real-time corrective alerts.
Lytx now has 500,000 vehicle subscriptions from 3,000 clients who collectively reported savings in 2017 of nearly half a billion dollars in claims cost. Going forward, the scale of its data makes it possible to automatically recognize more patterns in unique data sets, Nixon says.
Lytx is adding approximately 1 billion of driving miles to its database every two weeks.
"As long as you have unique data sets, you can train (machine vision) to recognize almost anything," he says. Near-term possibilities on the horizon include recognizing drowsy driving as well as identifying risks on certain roads by time of day and during certain weather patterns.
"All of those insights are available from us since we have a scale that no one else has," he explains.