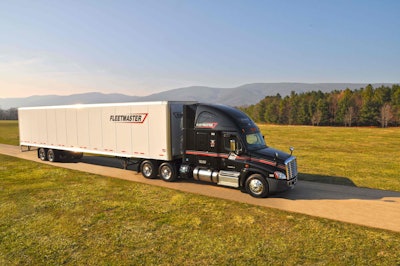 Lytx announced that Fleetmaster Express recently adopted its DriveCam technology that combines video capture of road incidents such as hard braking or sudden swerving, data analysis of those incidents, and personalized coaching insights to improve driving behavior.
The decision has led to significant results for Fleetmaster and its fleet of nearly 300 trucks, including:
91 percent improvement in both frequency and severity of events
61 percent decrease in collisions
71 percent decrease in near collisions
"We are a very dynamic fleet, with over-the-road, local, and dedicated hauling, and we have an intense focus on customer service and safety," said Travis Smith, chief operating officer for Fleetmaster Express. "We're also a growing company. And as our footprint expands, we needed a solution to efficiently identify and manage coaching opportunities throughout our fleet."
Smith said the DriveCam solution helps his company to effectively tackle safety challenges now and stay ahead of the fleet's needs as it grows. A major factor in Fleetmaster's choice to adopt the DriveCam program was the embedded sensor and machine-vision technologies in its ER-SV2 event recorder that give Fleetmaster the flexibility to add functionality and services in the future, including fleet tracking and connectivity to third-party solutions.
Lytx's ER-SV2 enables the ActiveVision service that uses machine vision and a high-precision analytics algorithm to detect and capture driving patterns consistent with distracted and drowsy driving. It can also work with third-party roll-stability systems to identify what's happening inside and outside the cab.
"Defending drivers and the company from false claims is also a priority," said Andy Kester, safety and HR manager for Fleetmaster Express. Mr. Kester said a recent claim of a hit-and-run against one of their drivers was proved false when the DriveCam video clip revealed that the driver had properly followed all procedures.
Fleetmaster also uses DriveCam videos to recognize and reward good drivers.
"While the driving event videos are great to show a driver about what they could be doing differently, as a group we can celebrate those times when the driver's doing everything right," Mr. Kester said. "That becomes a real teaching moment."