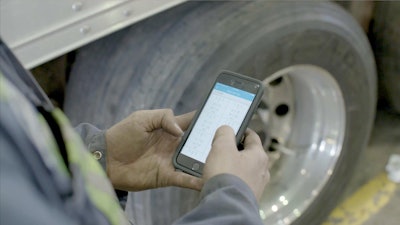 Dana Incorporated introduced Rhombus TireAnalytics 2.0, the second-generation tire maintenance and tire lifecycle management system platform for fleet maintenance professionals.
Improvements in the Rhombus TireAnalytics 2.0 update include the ability for a technician to connect tire PSI and access tire PSI and tread depth devices wirelessly to reduce manual data errors, as well as tire serialization that allows users to track tire history and current status based on its serial number.
For larger fleets, the cloud-based Rhombus TireAnalytics 2.0 platform also facilitates standardized tire inspection and maintenance practices across terminals.
"The Rhombus TireAnalytics 2.0 platform is a great example of the successful digital transformation of Dana, with our continued strategic focus on the customer," said Mark Wallace, president of Dana Commercial Driveline Technologies. "Our team listened to our customers and upgraded the platform in many ways to enhance the robustness of information the platform provides while also making it more user-friendly."
New lightweight axles
Dana also introduced the Spicer S172 series single drive axle and Spicer D172 series heavy-duty tandem axle, each weighing 60 pounds less than their S170 and D170 predecessors.
The Spicer S172 axle has a rear ratio range from 3.07 to 6.14 and is suted for 4×2, 6×2, and 8×2 applications up to 25,000 lbs. GAWR. The high-strength pinion bearings allow for greater lifespan under heavy loads, improving durability and overall performance.
The Spicer D172 tandem axle is suited for construction, heavy-haul and severe-service applications.
Both axles feature High-Power Density AdvanTEK gearing to maximize strength and reduce weight. In addition, both use a passive lube management system requires less lube while utilizing a patented meter to optimize the amount of lube flow to the high-efficiency bearings.
The axles will be available beginning in the second quarter of 2018.