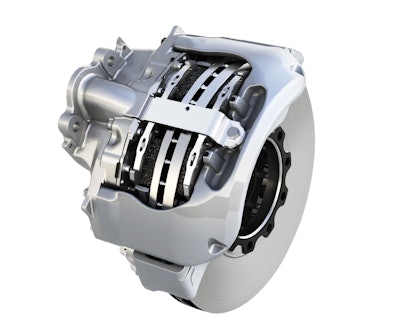 Daimler Trucks North America (DTNA) will make Detroit Assurance 4.0 collision mitigation system and Meritor's EX+ L air disc brakes standard on all new Freightliner Cascadia truck models the company announced at TMC's Annual Meeting in Atlanta this week.
Kelly Gedert, director of product marketing for Freightliner and Detroit Components says both Detroit Assurance 4.0 and the integration of air disc brakes on all wheels reflect the company's goal of reducing or mitigating collisions.
The Detroit Assurance 4.0 suite of safety systems includes Adaptive Cruise Control (ACC) and Active Brake Assist (ABA) 4.0. ACC helps drivers maintain a safe, continuous following distance and can be adjusted to following distances between 2.4 and 3.6 seconds. The Detroit Assurance 4.0 collision mitigation system is radar-based and always on. Its bumper-mounted radar tracks the distance from the front of the truck to other vehicles in its path. When a truck gets too close to another vehicle, the driver first receives an audible alarm with visual warning, followed by partial braking, and finally full active braking, where the system slows the truck using the transmission, engine brake and service brakes.
In addition to the standard collision mitigation system, the new Cascadia can be spec'd with other optional safety features, such as Lane Departure Warning and Side Object Detection systems.
"We understand that many of our customers continue to evaluate their safety and technology needs to determine what is best for their particular business, so we've made even our standard safety technologies optional,"Gedert says. "We all share the same goal of providing professional drivers with the right equipment to maximize safety."
Meritor EX+ L air disc brakes will now be standard on all wheel positions for the new Cascadia starting this spring.
The EX+ L has been weight-optimized without sacrificing performance and is the industry's lightest truck air disc brake. It features a gear-synchronized twin piston design that adjusts both pistons simultaneously, resulting in better performance and uniform pad wear. The internal adjuster mechanism's double-sealing technology does not require periodic lubrication, and enhances reliability by keeping contaminants out.