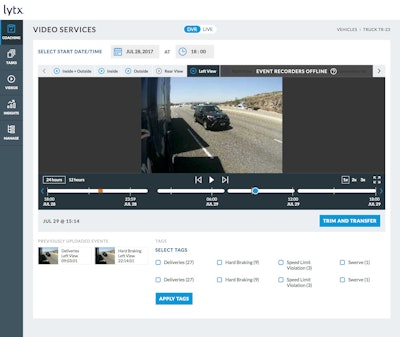 Lytx announced it has sold 300,000 new subscriptions to its video telematics over a three-year period, and now has half a million total subscriptions.
Companies that partnered with Lytx last year include the world's largest retailer, Walmart, along with one of the U.K.'s largest parcel delivery companies, and the largest privately held truckload carrier in North America, U.S. Xpress.
Lytx's flagship DriveCam video telematics safety program now protects more than 850,000 drivers.
In 2017, the company launched the Lytx Video Services program — an integrated service enhancement to the DriveCam program that helps eliminate the fleet and operational blind spots. Lytx Video Services combines video telematics with machine vision to give fleet and operations managers access to cloud-connected, continually recorded video, available on demand.
"By introducing key enhancements to our DriveCam program last year, we set out to change the way video works for our clients," said Lytx Chairman and CEO Brandon Nixon. "Looking ahead, we will continue to innovate in new ways to help our clients solve their most pressing business challenges."
Notable Lytx business achievements in 2017 are:
For the third year in a row, over half of existing clientsexpanded their fleet deployments
37thconsecutive quarter of double-digit growth in subscriptions
Over $200 milliontotal contract value committed in 2017
Delivered an estimatedsavings of $494.4 million in total claims costs
Analyzed more than 20 billion miles of driving data.