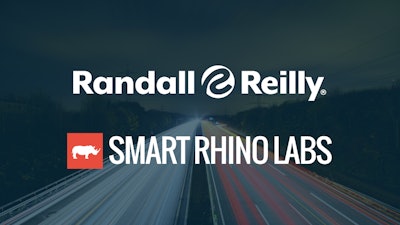 Commercial Carrier Journal's parent company Randall-Reilly has acquired Smart Rhino Labs, which offers recruiting services in the trucking industry.
"Smart Rhino Labs has pioneered the use of technology for lead nurturing in truck driver recruiting," says Brent Reilly, Randall-Reilly CEO. "As we look to evolve our business model and add new capabilities to deliver greater value to our clients, they are a natural fit with our current offerings."
Salt Lake City-based Smart Rhino Labs helps HR professionals find talent at scale. The firm specializes in candidate acquisition, job distribution, mobile recruiting, analytics and high-volume hiring, as well as owning and operating a network of 25 job boards.
Beyond recruiting, Randall-Reilly also uses its extensive data capabilities to generate quality leads in trucking, construction, agriculture and industrial markets. Through the years, the company has found that recruiting, sales and marketing organizations struggle to follow up on interested candidates and prospects in a timely fashion, Reilly says. "We believe we have to do more for our clients than just hand them leads or job applications. We have to help them take advantage of the interest we stimulate in the market."
Enter Smart Rhino Labs, which has technologies and processes that leverage SMS, email and VOIP phone technologies. "We put all of these capabilities to work, nurturing leads into tangible action," says Smart Rhino CEO Scott Evanson. "We're excited to make our capabilities available to Randall-Reilly's more than 4,000 clients."
Using Smart Rhino's audience, Randall-Reilly recruiting clients should see a double-digit increase in campaign volume, says Scott Miller, Randall-Reilly senior vice president, sales. "One of our primary goals with this partnership is to continue to help fleets improve their rate of hire," he says. "But the real benefit is to help fleets move from maintaining their fleets to growing their fleets."
The two companies already have a track record together. Over the past two years, Randall-Reilly and Smart Rhino began sharing a growing recruiting client base, Reilly says, "and they have been an ideal partner."
"After a great partnership and huge client successes together, we see immense opportunities to serve all our clients even better by combining what we offer with what Randall-Reilly brings to the table," Evanson says. "We look forward to the coming years of continued growth and innovation."
Founded in 2011, Smart Rhino Labs has been named one of Utah's 100 Fastest Growing Companies. Key company leadership, including CEO Scott Evanson, COO Ben Paynter, CTO Brett Evanson and CMO Jared Beauchamp, will remain in their respective roles.