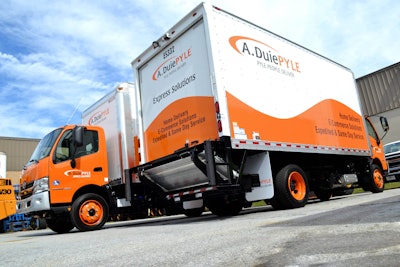 Transportation companies of all types are feeling the impacts of e-commerce. Forrester, a leading research firm, projects that 17 percent of all U.S. retail sales will move online by 2022, up significantly from approximately 12.7 percent sales that flowed through online channels in 2017.
Motor carriers, especially in the less-than-truckload sector, seem to be benefitting most from opportunities in e-commerce and expedited shipping. With this opportunity, however, comes the challenge of updating their equipment, technology and services.
A. Duie Pyle, the largest Northeast regional LTL carrier, offers same-day and overnight service across a network that stretches from northern Virginia to Eastern Ohio, Pennsylvania, and New York to Maine.
In 2016, the company launched a new Express Solutions fleet that operates within the existing Pyle Priority Service (PPS) for customers wanting same-day and time-definite next-day service.
Express Solutions is focused on smaller shipment sizes for e-commerce deliveries. A. Duie Pyle's fastest growing segment is now shipments weighing less than 500 pounds. The carrier traditionally has used tractor-trailer combinations to pickup and deliver all shipments in the LTL spectrum of between 150 and 15,000 pounds.
Express Solutions operates diesel and electric hybrid Hino trucks with an 18-ft box to make pickups and deliveries. The trucks depart facilities in the early morning for pickups and complete deliveries in the early afternoon.
CCJ recently caught up with Randy Swart, chief operating officer of A. Duie Pyle, to ask about the technologies the company has implemented to make Express Solutions an early success in this fast-growing market.
CCJ: Because of the "Amazon effect" on e-commerce, customers have high expectations for a delivery experience. They want to know the exact day their shipment will arrive as soon as they place an order from a website. What technologies have you brought together to meet and exceed these expectations?
Randy Swart:
The hand-held units that drivers carry allow us to get information at the point of pickup, and to have information at our fingertips seconds after freight is scanned.
This technology allows Pyle to start routing the shipment and begin the customer contact process immediately as opposed to waiting for the driver to return to the Service Center.
Once a shipment is routed, an ETA is assigned and available on the web for customers. Customers are able to request ETA, delivery notifications and proof of delivery updates via the MyPyle website for any shipment they wish to track.
CCJ: What were the major reasons why you chose the Appian routing software from TMW Systems? How do you use this product on a daily basis to accomplish your objectives?
Randy Swart:
We were looking for a sequencer, not optimizer, that would work with our in-house technology to enhance the routing process. Our objective is to efficiently route our shipments and provide customers with reliable ETAs.
CCJ: What are some of the main features of the mobile platform you use for Final Mile that help you automate a lot of the back-end processes for customer service and invoicing?
Randy Swart:
Driver manifests are electronically submitted to the driver for delivery and pickup work. Through the instantaneous signature capture, we are able to provide confirmation of delivery to internal and external customers.
Mobile scanning at the pick-up point enables us to have all the Bill of Lading information at our fingertips within minutes, which allows us to begin the process of planning the shipment for a timely delivery. Our mobile platform gives customer service representatives continual updated information on the drivers progress so they can more knowledgeably interact with customers with the most current information on their pickup or delivery.
CCJ: Based on your experience thus far, what are the unique challenges of operating a Final Mile delivery business from your other lines of business and what are some examples of solutions that seem to be working?
Randy Swart:
One of the challenges we face is scheduling for each unique customer delivery requirement combined with physical delivery limitations for some customers in residential and rural area deliveries. Our technology allows us to engage earlier in the delivery process with the end customer. We have had to invest in a more diverse fleet and equip our fleet with lift gates and other delivery tools needed for consumer ground level and curbside deliveries of large, heavy shipments.
The technology has really given us the ability for continuous communication from pickup throughout delivery, which is necessary in the Final Mile arena.