CCJ's Indicators rounds up the latest reports on trucking business indicators on rates, freight, equipment, the economy and more.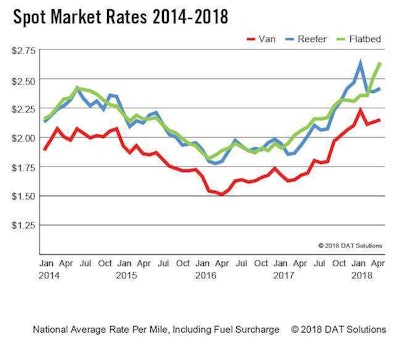 Truckload freight volume on the spot market in April was the month's strongest on record, despite declining roughly 7 percent from March. DAT says April's dip is in line with seasonal trends. Compared to April 2017, freight availability was up 32 percent, according to the DAT North American Freight Index.
Flatbed freight carried the surge, with load volume in the segment increasing 59 percent from last April.
Rates continued to rise in April, DAT reported, as weather improved in the Northeast and Midwest, and produce harvests added to pressure on truck capacity in the South.
"May and June are typically peak season for agriculture and construction, and retail freight appears to be expanding, as well," said DAT industry analyst Mark Montague. "Seasonal demand should keep rates high at least through the end of the second quarter."
Trucking Conditions Index dips too, but market remains tilted in favor of carriers: Market conditions for trucking companies, as measured by FTR's Trucking Conditions Index, slipped in March from February, but still reflected a strongly carrier-favorable environment.
FTR forecasts conditions for carriers stabilizing at a high level into 2019 as fleets continue to add capacity and the supply-chain adjusts to the ELD mandate.
"While diesel prices increases are a negative for the carriers, the relatively modest uptick in recent fuel costs is more than offset by significant gains in pricing and overall strong demand for transportation," says Jonathan Starks, FTR's Chief Intelligence Officer. "The Market Demand Index published by Truckstop.com and FTR shows that the spot market is once again tightening. It is likely to hit new record highs as we approach the summer shipping season at the end of May."