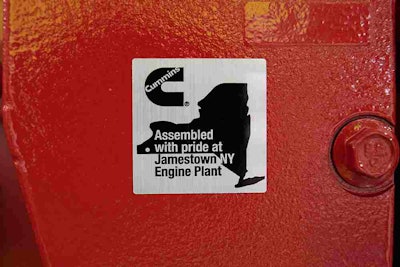 Cummins Inc. on Thursday announced the production of its two millionth engine at its Jamestown Engine Plant (JEP) in Jamestown, N.Y. – a facility which accounted for 14.7 percent of Cummins total engine production in 2017.
Cummins acquired the more than one million-square-foot facility in 1974, using it initially to manufacture engine components.
Since building their first engine in 1981, production in recent years typically exceeds 100,000 engines annually. Jamestown is home to the production of Cummins heavy-duty engine technologies including the X15, ISX12, X12, ISM11 diesel engines and ISX12N natural gas engine as well as historically the ISX15 diesel engine and ISX12 G natural gas engine.
"We credit much of our success to the hard-working employees that commit themselves every day to provide products and services that meet or exceed our customers' expectations," says Anna Dibble, Cummins JEP Plant Manager. "They work to provide this company with quality products that we feel proud to stand behind. They are also committed to improving where they live, JEP annually contributes $1 million back to the community through charitable donations."
With 1,700 employees working in the facility, JEP has grown about 20 percent since 2012 and is the largest private employer in Chautauqua County.
"Jamestown Engine Plant plays an important role in our company's ability to produce a broad range of engines for different customers around the world serving a wide variety of markets," says Cummins Vice President of On-Highway Engine Business Brett Merritt.
The milestone engine was spec'd in an International LT Series truck for Penske Truck Leasing.