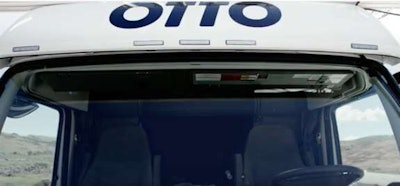 A major player in the early days of autonomous trucking has announced intentions to exit self-driving truck development efforts.
Uber announced Monday night the company will shut down its autonomous truck division, bringing an un-ceremonious end to Uber's self-driving retro-fit kit – a technology that less than two years ago appeared to be among the leaders in autonomous trucking tech. Formerly named Otto, Uber had been working on its autonomous retrofit system under its Advanced Technologies Group.
Shuttering the self-driving truck unit does not affect the Uber Freight platform, an app-based technology that matches truckers with available loads.
Otto successfully deployed its system, which uses LiDAR and cameras, on a 120-mile autonomous test in October 2016, hauling a load of Budweiser from Fort Collins, Colo., through Denver to Colorado Springs on Interstate 25. The company ran a second test in Ohio several weeks later.
In an emailed statement provided to media outlets yesterday, the head of Uber's Advanced Technologies Group Eric Meyhofer says shuttering its autonomous trucking division will allow the company to focus its attention "exclusively with cars."
"… we believe having our entire team's energy and expertise focused on this effort is the best path forward," he says.
Uber is just beginning to return its autonomous cars to public roads, having parked them following an incident in March when a pedestrian was struck and killed in Arizona as they crossed the street.
Despite its early success, Uber's time in driverless trucking hasn't been without controversy.
Uber acquired self-driving truck startup Otto in 2016 from Anthony Levandowski, a former engineer in Google's car division. Google promptly sued with allegations of theft of trade secrets and autonomous technology owned by its self-driving car unit, Waymo. That case was settled earlier this year with Uber never admitting to fault.
As part of the settlement Uber was forbidden from folding any of Waymo's technology into its hardware or software and Uber agreed to pay about $245 million in a financial settlement.