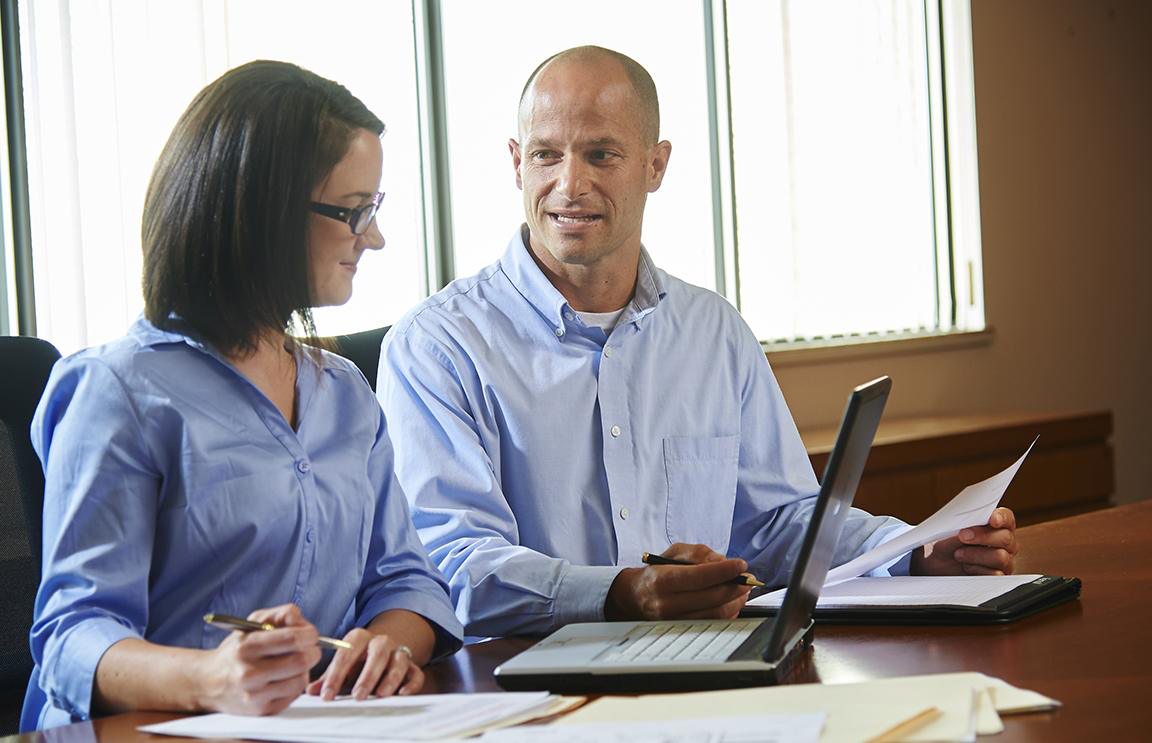 While fleet operations are tasked with keeping the wheels of business moving, the responsibility to keep them from falling off rests with safety departments.
Ever-present risks can escalate quickly if accidents, incidents or audits uncover missing or incomplete driver files, logbook errors and other areas of non-compliance.
Private and commercial fleets can't afford to ease up on compliance, but managing the information and workload can stretch resources thin. The following four options are helping fleets "right size" their safety departments to free up resources to focus on higher priorities to reduce risk like training and developing drivers.
1. Online training
Online driver training is one strategy to maximize the effectiveness of the time safety personnel spend with drivers.
Fleets are able to assign training modules to drivers before and during orientation meetings to help them gain an understanding of company safety policies and procedures. These policies can be reinforced in person with meetings, test rides and other means necessary to "ensure (drivers) truly understand your thoughts around safety," says Brandon Folck, director of safety standards for Ryder System.
Ryder System is a large provider of dedicated transportation and supply chain management. The company uses the Pro-TREAD training platform from Instructional Technologies, Inc. (ITI) and its library of training content. The online platform assists with documenting training to remove administrative work.
"Paper has become a thing of past," he says.
Mark Murrell, president of CarriersEdge, says fleets are using online training to create individualized learning experiences for drivers that are "way more efficient" because "not everyone is sitting through the same orientation."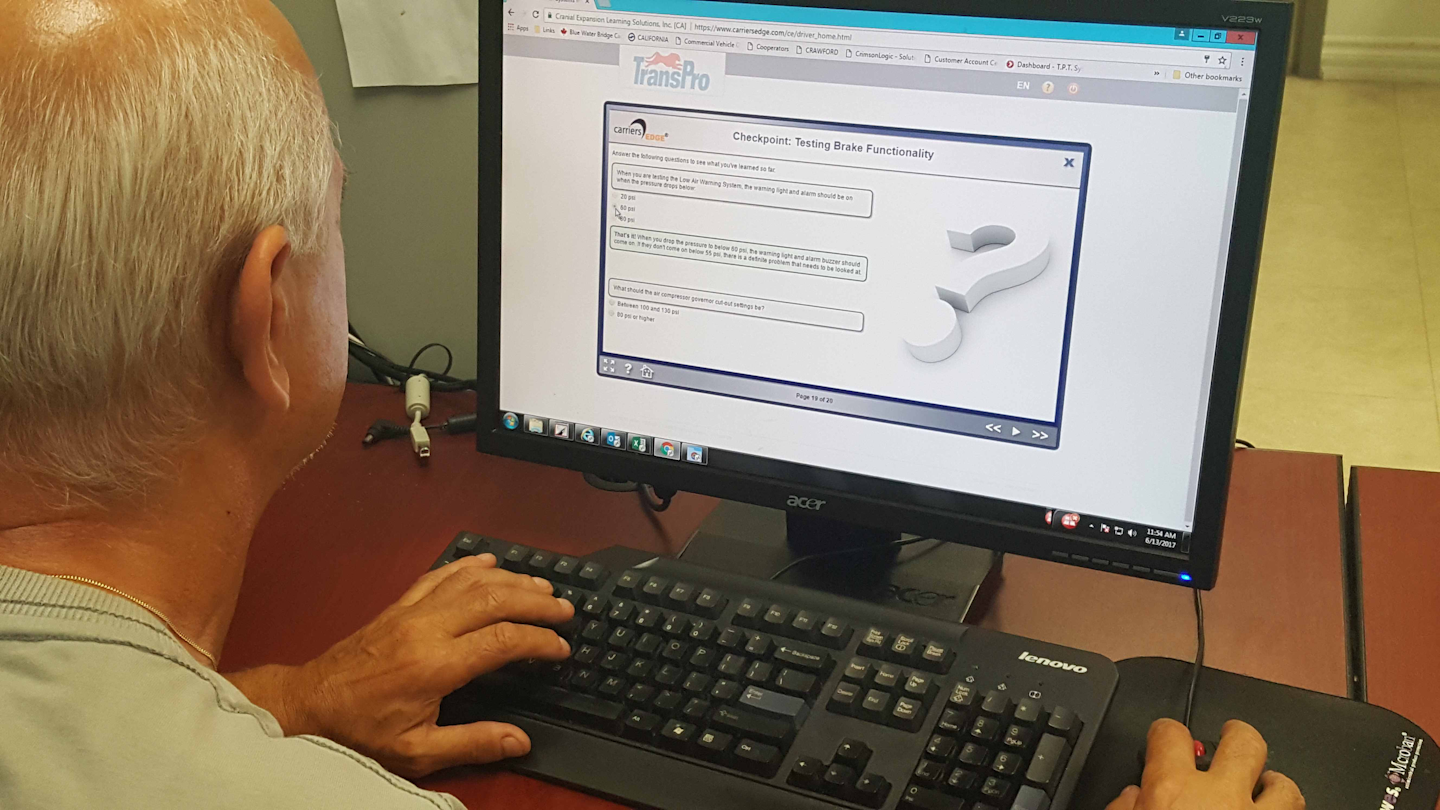 With online training, fleets can give drivers assessments to complete before they arrive for orientation in order to assign them a custom set of training modules based on their knowledge and experience, he explains.
The CarriersEdge platform has a mobile app drivers can use to complete the assigned modules at their convenience.
"To have everyone come into a terminal and sit in class is really inconvenient and forces drivers to get the job done at particular time," he says.
2. Log auditing
Industry adoption of electronic logs has largely eliminated the paper burden in the office, but the task of auditing electronic logs for accuracy remains.
Fleetworthy Solutions can capture electronic data electronically through integrations with ELD systems and deliver various kinds of exception reports as well as provide guidance from experts to help fleets correct patterns of violations.
Likewise, Fleetworthy has technology and people that can audit the accuracy of ELD records by matching drivers' duty status — particularly the time logged as "off duty" — to a fleet's dispatch data, fuel receipts, tolls and GPS records to help eliminate audit risks.
With a full-time staff of log auditors, some fleets may only be auditing 30 percent of daily logbook records to determine if their drivers have properly recorded on-duty and off-duty time, says Carl Robinson, vice president of Trimble Analytics.
Trimble Analytics is a division of Trimble Transportation Mobility — formerly PeopleNet — that offers fuel tax, log auditing and analytical products for mpg, safety, driver retention, maintenance and driver productivity.
Trimble Analytics has a logbook auditing service that uses dispatch data, fuel receipts and other electronic sources to identify exceptions in the "on duty, not driving" (Line 4) record of duty status. The automated service gives fleets 100 percent coverage for logbook auditing, he says.
Robinson has seen fleet customers apply the time savings from using the auditing service to take a more personalized approach with drivers that have log violations. Rather than send out an email listing their violations, they are training drivers by phone or in person how to avoid mistakes.
"This leads to a better result for the behavior they are trying to change," he says.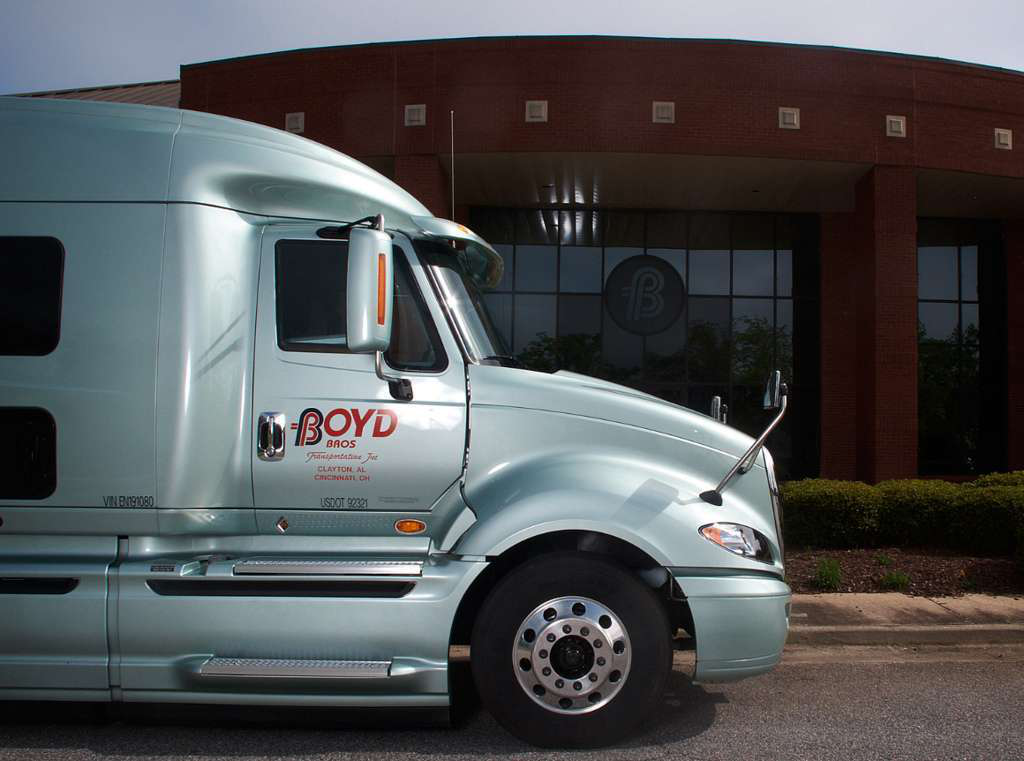 Until recently, safety personnel at flatbed carrier Boyd Bros. Transportation were manually auditing electronic log data. People had to scramble between multiple systems to find supporting data and documents, says Bob Viso, vice president of safety for the Clayton, Ala.-based fleet.
Viso says his experience confirms the 80/20 rule for logbook auditing. Eighty percent of drivers log correctly and 20 percent create most of the errors from either a "sheer lack of understanding" of the rules or by "trying to eke out more time," he says.
With limited resources, Boyd Bros.' safety department was focusing on drivers with the most egregious logbook violations. With a fleet of nearly 600 trucks, the log auditors were reaching between one to three percent of drivers in the fleet, he says. The contact was happening three to five days after the violations had occurred.
"We still may have had 17 or 18 percent of drivers we needed to talk to but didn't have the manpower," he says.
In July, Boyd Bros. started using a logbook auditing service from Lytx RAIR that electronically validates the company's electronic logs using supporting documents from fuel and toll receipts, GPS records, pre-trip and roadside inspections, and other data sources.
The Lytx RAIR service audits 100 percent of its drivers logs and identifies errors by the next day. The immediacy of information makes it possible for Boyd Bros. to give drivers "timely coaching" for violations, no matter how egregious, he says.
With the time savings, Boyd Bros. is able to focus more resources on using predictive risk information from the DriveCam video-based safety program, also from Lytx, and is spending more "face to face" time with drivers coaching them for improvement.
When using video event recorders and other advanced safety systems, Viso says it is imperative that fleets stay on top of predictive driver behaviors.
"We've got a lot of data coming in. What you don't want to do is have all this information and not use it or do anything with it," Viso says. "You'll get crucified."
3. Qualified drivers
Another avenue for safety departments to lighten the load of compliance is to outsource driver qualification files.
"We have a lot of drivers coming through orientation," says Jay Thomas, vice president of safety for Navajo Express, a 1,200-truck refrigerated carrier based in Denver, Colo.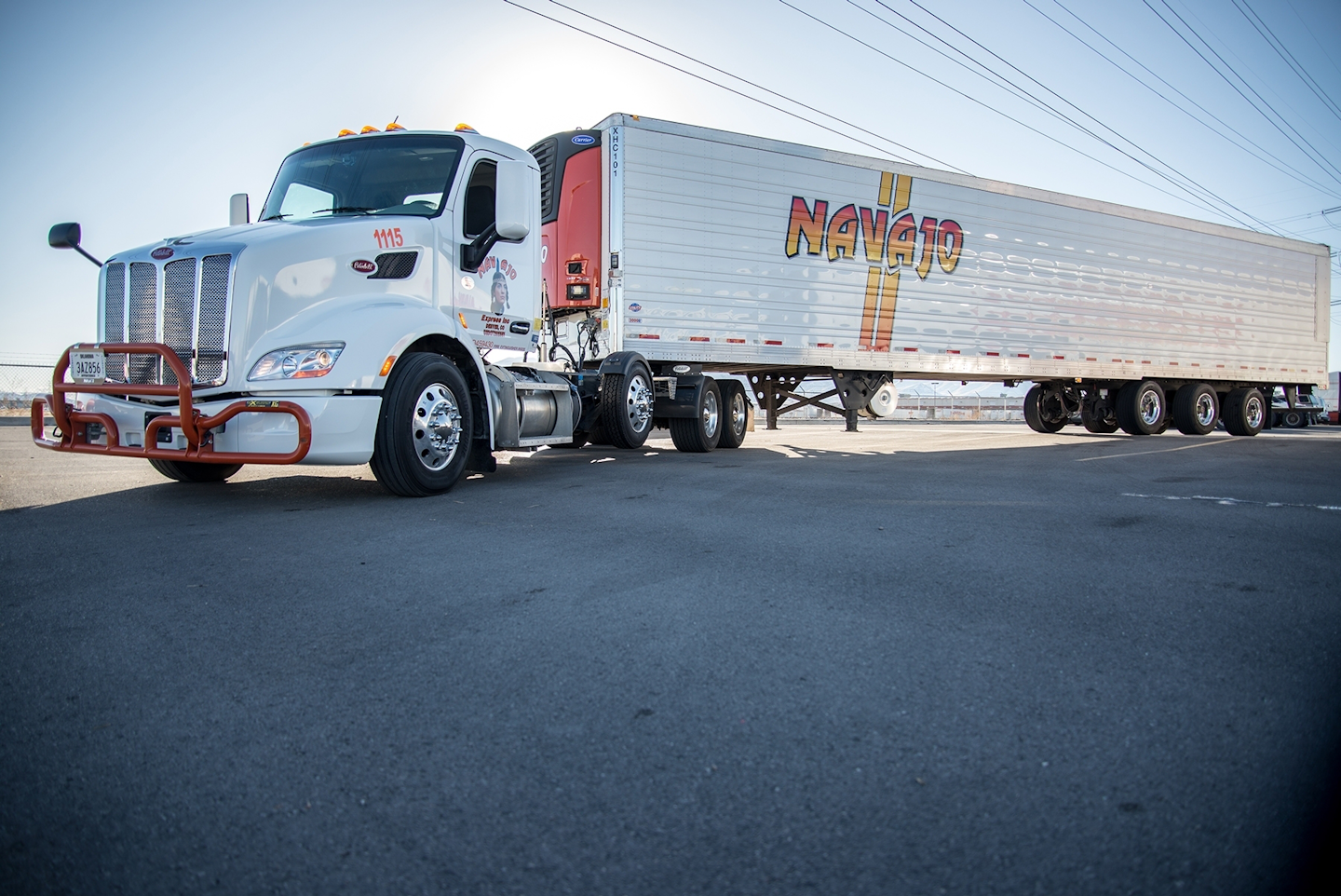 As drivers come through orientation, safety personnel at Navajo gather information to build qualified driver files. With everything else that needs to be done in safety, it's easy to skip the step of auditing files, he says.
The auditing of those files is now done by a third party. Navajo Express uses an auditing service from Lytx RAIR to ensure its files are complete and keep them updated by managing expiration dates for driver licenses and other qualifications.
After drivers attend orientation, Navajo Express scans its files and sends a PDF packet to Lytx RAIR. Besides auditing the files, the service builds an electronic file for the safety department that relieves its staff from doing file indexing and verification.
Navajo Express also uses the Lytx RAIR log auditing service.
"Our auditors are good at what they did, but when you think about the math, auditing 1,200 logs in 30 days is a monumental task to do manually," Thomas says.
As the nation's second-largest equipment rental sales and service provider, Sunbelt Rentals has "a very heavy paper load in order to maintain compliance," says Byron Adkins, director of the company's transportation safety management group.
Outsourcing driver qualification files has alleviated the paper burden for the Fort Hill, S.C.-based company and its 3,600-vehicle delivery and service fleet.
When Sunbelt hires new drivers, field operators send completed employment forms to headquarters. After initial review, the safety group electronically transfers the files to J.J. Keller for further review and auditing.
J.J. Keller promptly communicates back any areas of non-compliance that need follow up and completion, Adkins says. Sunbelt Rentals also utilizes J.J. Keller for its equipment licensing, registration and permitting.
"The confidence in the vendor capabilities for maintaining ongoing compliance with driver qualification files, and the support and assistance with vehicle registration, titling and permitting allows the leadership within Sunbelt Rentals to turn our focus toward employee hiring, employee retention, ongoing driver training and developing a sustainable safety culture on the road across our entire fleet," Adkins says.
4. CSA monitoring
In safety and in other departments, fleet professionals often spend a good portion of their day searching for information and compiling reports from different sources to make decisions.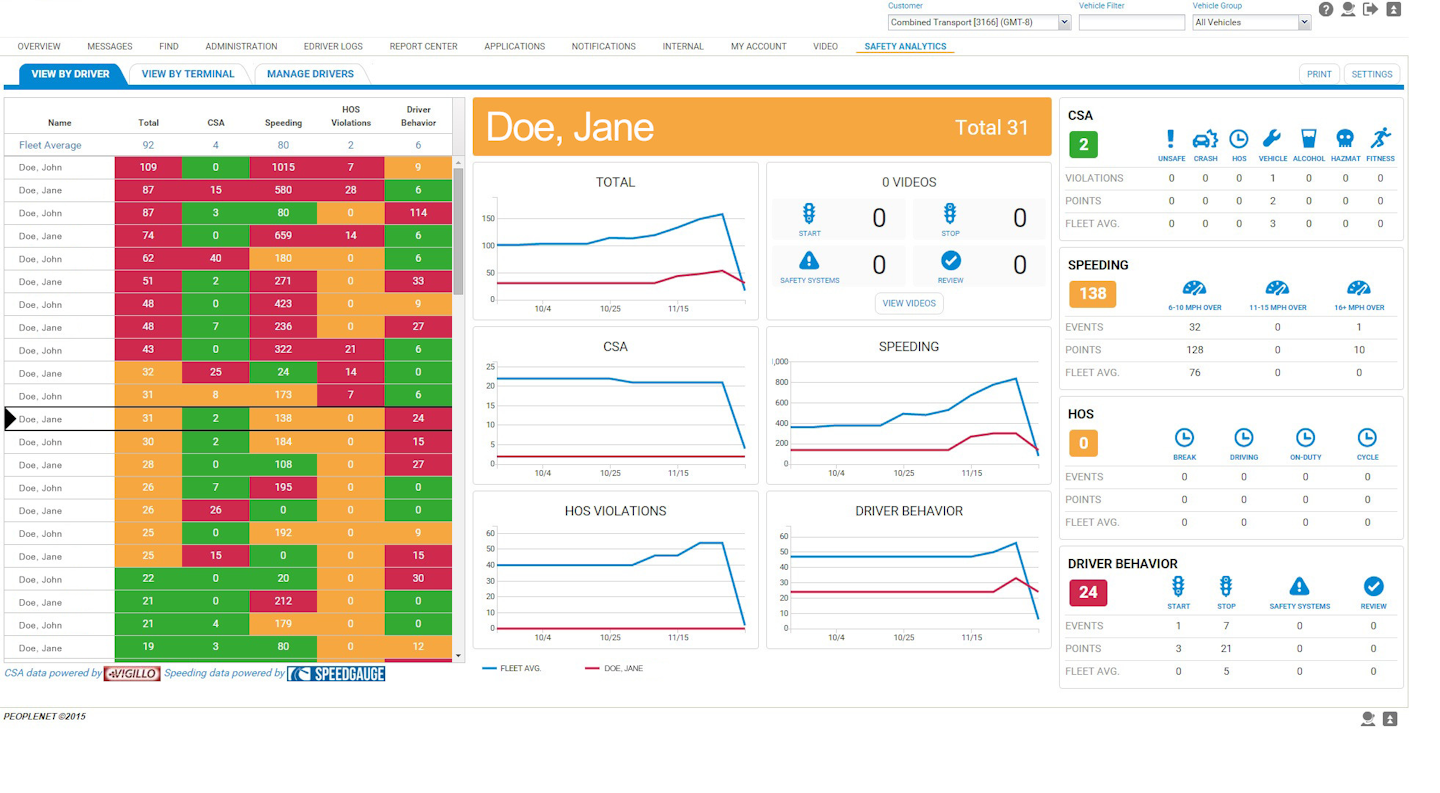 Fleets are using products and services from third parties that give them a single dashboard to manage fleet safety and compliance.
The Lytx RAIR service includes a portal that gives Boyd Bros. an organized and ranked view of its drivers according to violations in the Compliance, Safety, Accountability (CSA) scoring program. The portal has predictive information, Viso says, that gives managers the company's CSA score before the official monthly update comes from the Federal Motor Carrier Safety Administration.
"We do not spend as much time linking a violation to a driver or fleet manager," he says, since the results are available from the portal. Viso says he feeds reports to fleet managers that show drivers with clean CSA inspections to give them recognition. Likewise, he sends reports that identify drivers with bad inspections for managers to have follow up conversations with.
Jay Thomas with Navajo Express uses the CSA reporting from Lytx RAIR to immediately identify drivers with violations from roadside inspections and determine the reasons why. A driver may have not renewed a medical card or license, for instance.
"Since using RAIR, we haven't had near the number of violations we had prior to using them," Thomas says. "We were having lot of CSA violations in driver fitness because drivers were not getting self-certified."
The company is now able to proactively work with drivers to complete their physical exams and other self-certifications. Each user in the safety department of Navajo Express has a dashboard to manage CSA data, hours of service and driver qualifications.
Thomas uses the portal to look at the overall picture. "I can login and within five minutes I know where we are at," he says.
Trimble Transportation Mobility has a Safety Analytics dashboard that fleets can use to compare driver behaviors for hours-of-service compliance, speeding and sudden stops and starts, to CSA violations.
In the near future, the company plans to offer a driver fatigue monitoring service that will use drivers' HOS data and share insights through the same Safety Analytics dashboard, says Jim Angel, vice president of the company's Video Intelligence Solutions product line.
Outsourcing labor-intensive compliance tasks is a strategic decision to free up resources and deliver timely information for more important duties in safety.