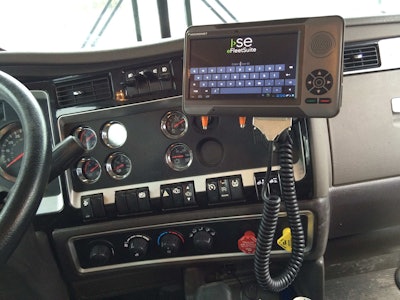 PeopleNet is now offering ISE Fleet Services' eFleetSuite electronic logging devices (ELDs) to fleets with less than 50 vehicles who are looking for a compliance-only solution.
PeopleNet and ISE are Trimble Companies.
ISE is an engineering and systems integration firm that delivers Internet of Things (IoT) and telematics technology. PeopleNet says the ability to offer eFleetSuite complements its larger portfolio of safety and compliance applications that includes eDriver Logs ELD, Video Intelligence, Onboard Event Recording, Speed Monitoring and others.
"ISE has an extensive track record of helping fleets maintain safety and compliance," said Glenn Williams, division vice president of territory sales and channels for PeopleNet. "As the demand for ELDs continues to grow, this collaboration allows us to leverage that expertise and address the market need for standalone solutions that meet the mandate's requirements."
ISE's ELD application is self-certified and compliant with the Federal Motor Carrier Safety Administration (FMCSA)'s ELD mandate, which goes into effect Dec. 18, 2017.
"Many fleets do not require a full-featured solution, they just want to ensure that they are compliant with the upcoming mandate," said Chris Nelson, vice president of ISE Fleet Services division. "Working with PeopleNet allows us to better serve these fleets and to give them additional choice when looking for compliance-only products."
Small fleets can purchase the ELD by visiting: www.peoplenetonline.com/ISE.