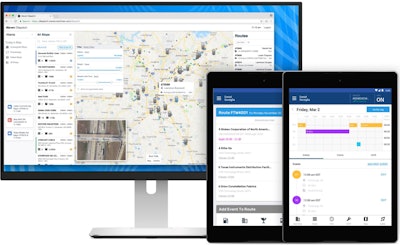 Maven Machines, a fleet management and ELD compliance provider, released a new Maven Dispatch product that combines traditional dispatch with telematics and added layers of automation.
Central Freight Lines, a Texas-based LTL trucking company recently adopted the new Dispatch system with the ELD system it already was using from Maven Machines to manage its fleet operations.
"Maven Machines preserves the vital data amassed by our dispatchers and drivers while streamlining their daily work-flows and adding critical real-time visibility to every step and every mile," said Richard Fite, vice president of Line Haul, Central Freight Lines.
According to the announcement, the new Dispatch puts back-office tasks directly into the hands of drivers, planners, and dispatchers for fleet-wide operational visibility.
As an LTL carrier, Central Freight Lines uses Maven Dispatch to accommodate a variety of complex operational scenarios to accurately invoice its customers and manage freight capacity. Trailer swaps, unscheduled stops, stops at separate docks for a single client, and special equipment such as a lift gates are among the different scenarios the software accommodates.
The mobile-cloud technology has real-time 2-way communications with GPS and sensors that trigger automated workflows. Maven Dispatch uses off-the-shelf hardware, API integration to fleets' existing IT infrastructure, and user-friendly designs that reduce training and speed adoption.
The platform features include:
digital image capture of shipping BOLs
1-click load assignment to reduce dispatch planning times
A mobile UI that intelligently switches between driving/delivering to support driver workflows.
"I like how Maven shows my entire day's run and then changes screens automatically when I arrive or depart," said John Hurt, a Central Freight driver in Dallas.
Customizable alerts based on combinations of geofence, task, or behavior
Intelligent routing and load planning
Combined Dispatch and Hours of Service (HOS)
Automated real-time reporting of accessorial charges like detention-time and special equipment charges.
"With Maven Dispatch, fleets can visualize their entire workflow. The product combines previously separated data sources and presents the information intuitively across the mobile-cloud network," said Daniel Gorziglia, vice president of engineering at Maven Machines.