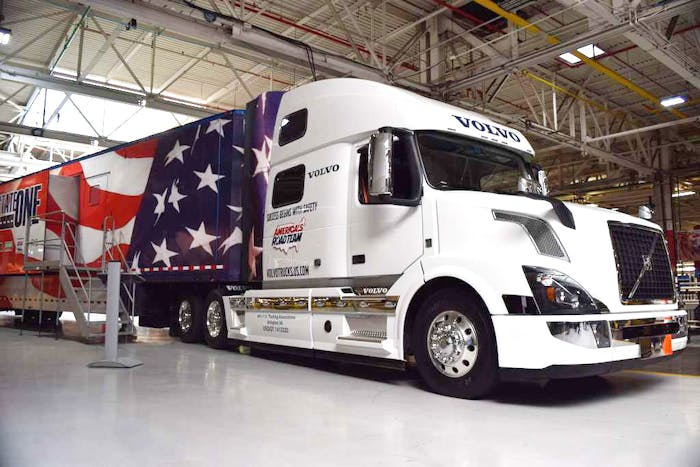 The American Trucking Associations announced Monday the 34 drivers who are finalists for the 2019-2020 term of America's Road Team.
America's Road Team, sponsored by Volvo Trucks, is a group of professional truck operators with superior safety records. Dubbed "captains," they represent the trucking industry at industry events, schools and policymakers, with support from their companies.
The 34 finalists advance to the final round of the selection process, being held January 27-30 in Arlington, Virginia. A panel of industry officials and media will judge the finalists on their knowledge of the industry, dedicate to safety, ability to communicate and overall driving record.
The final Road Team will be announced on January 30 at a ceremony on Capitol Hill in Washington. "ATA believes the men and women who work safely day after day to deliver our goods – truck drivers – are the best representatives of the trucking industry and we are inspired by the finalists for the upcoming class of America's Road Team," said ATA President and CEO Chris Spear.
The finalists are:
Ronald Baird, Hoffman Transportation/G&D Trucking; Thorntown, Indiana
William C. Bennett III, UPS Freight; Maytown, Pennsylvania
Dale Brenaman, UPS Freight; Stamping Ground, Kentucky
Sammy Brewster, ABF Freight; Powder Springs, Georgia
Jorge Chavez, Jetco Delivery; Houston, Texas
Timothy Chelette, Big G Express; Murfreesboro, Tennessee
James Clark, Penske Logistics; Otter Lake, Michigan
April Coolidge, USA Truck; Mint Hill, North Carolina
Scott Davis, ABF Freight; Kearney, Missouri
Jesse Wayne Dennis, Prime Inc.; Springfield, Missouri
Ken Duncan, Walmart Transportation; Gorham, Maine
Douglas Frombaugh, FedEx Freight; Carlisle, Pennsylvania
William Goins, Old Dominion Freight Line; Cloverdale, Indiana
Billy Hambrick, Werner Enterprises; Yoder, Wyoming
Russell James, YRC Freight; Bonner, Montana
Ronnie Luckadoo, UPS Freight; Forest City, North Carolina
Gary Martin, FedEx Ground; Galt, California
William McNamee, Carbon Express; Christopher, Illinois
Dave Peterson, FedEx Ground; Blaine, Minnesota
Tine Peterson, FedEx Ground; Blaine, Minnesota
Brian Petrovcic, ABF Freight; McAlisterville, Pennsylvania
Robert Preston, Werner Enterprises; Winder, Georgia
Roger Price, TCW Inc.; Olive Branch, Mississippi
Jeff Rose, YRC Freight; Creston, Ohio
Rodney Rutledge, FedEx Freight; La Union, New Mexico
Richard Slack Jr., TCW Inc.; Savannah, Georgia
Theldorine Sova, Prime Inc.; Sacramento, California
James Starr, Groendyke Transportation; Wichita, Kansas
Clarence Taylor, Walmart Transportation; North Chesterfield, Virginia
Paul Wahlster, Holland; Rolling Prairie, Indiana
Nicolette Weaver, FedEx Freight; New Bloomfield, Pennsylvania
Todd Wilemon, ABF Freight; Fulton, Mississippi
James Gragg Wilson, FedEx Freight; Reno, Nevada
Ronald Vandermark, UPS Freight; Delran, New Jersey