CCJ's Indicators rounds up the latest reports on trucking business indicators on rates, freight, equipment, the economy and more.
FTR's monthly Trucking Conditions Index, a measure of market conditions for motor carriers, eased a bit in August after hitting its second-highest point on record in July.
The reading reflects stabilizing rates and incremental gains in capacity, says FTR. Freight demand remains "quite strong," the firm says, and the index is expected to continue to signal a strong environment for carriers for at least the next year.
"The August TCI reading is the lowest of 2018 so far," said Avery Vise, vice president of trucking at FTR. "But prior to this year the TCI had not been higher than [August's reading] since December 2015. In other words, the moderation we see in trucking conditions really just highlights how phenomenal the first half of 2018 was. Based on our current forecast, trucking conditions will remain positive at least through 2019."
Spot volume hits seasonal snag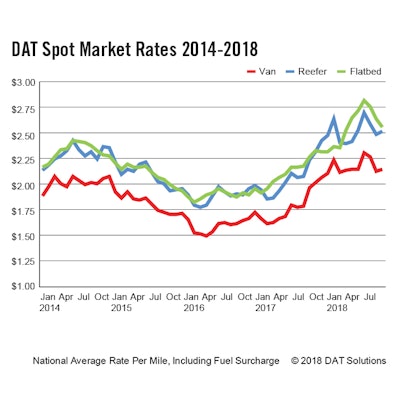 Freight volume on the spot market declined 14 percent in September from August, according to DAT's monthly Freight Index. Compared to September 2017, volume was down 30 percent, with the decline due in large part to a steep drop in flatbed loads. However, flatbed demand last September was elevated due to the impact of hurricanes Harvey and Irma.
Hurricane season this year has not had a major impact on freight flow, DAT says.
"The decline in load posting volume in the DAT load board marketplace actually signals a return to stability, as 3PLs and freight brokers are able to find trucks more quickly," explained DAT market analyst Peggy Dorf. "Volume can be expected to increase in the fourth quarter, although year-over-year increases may be muted due to the strength of comparable months in 2017."