Over the last nine months, Quanta Services has installed 24,000 telematics units from Verizon Connect and plans to continue with the remainder of its 53,000-vehicle fleet.
Globally, Verizon Connect plans to install 800,000 units in vehicles this year and 1.4 million in 2019.
As a Fortune 500 company, Quanta Services provides engineering and construction services to electrical utilities. Between September 2017 and 2018 its fleet used technology from Verizon Connect to reduce miles per trip from 10.66 to 9.64, increase fuel economy by 21 percent and cut engine idle time by 12.7 percent.
With 13.6 million work-related trips completed and 5.5 million hours of engine idling over the same time annual period, "a small percent improvement is big money in the fleet business," said Dave Meisel, Quanta's executive vice president of operations.
Meisel spoke at the annual Latitude business conference, Oct. 23. The event by Verizon Connect took place at the Monarch Beach resort in Dana Point, Calif., from Oct. 22-24.
Among the many attendees at the event were fleet managers from Sysco, a foodservice provider with 9,000 tractors; from YRC Freight, a less-than-truckload carrier with 7,500 tractors; Costco Wholesale with a fleet of 350 trucks; and Foster Farms, the largest poultry company in the West Coast with a fleet of 300 trucks.
Executives from Verizon Connect told attendees the investments made over the past two years are paying off for its customers large and small. Deploying the company's fleet and mobile resource management technology has become faster with more support and resources dedicated to the customer experience.
John Dahlgren, assistant transportation manager of Foster Farms, said the fleet was up and running in one week after all the hardware was installed. The company uses electronic logs and other features of the platform in 150 Peterbilt, Freightliner and Volvo trucks that deliver finished goods. The in-vehicle telematics devices took 15 to 30 minutes to install, per vehicle, in a "plug and play" fashion, he said.
Foster Farms uses mobile phones used for the driver display.
"I was impressed at how fast drivers were able to use it and adapt to it," Dahlgren said. "The implementation was just amazing."
Customer experience
In March, 2018, Verizon Connect launched as the unified branding for companies that Verizon — the $130 billion parent company — acquired in the former business unit of Verizon Telematics.
With the additions of Telogis and Fleetmatics in 2016, Verizon Connect became the largest provider of built-in telematics and mobile applications for commercial vehicles and workers.
Through partnerships with 15 vehicle manufacturers, Verizon Connect telematics units are embedded at the factories of Hino, Fuso, John Deere, Volvo, Mack Trucks, Dodge Ram and other OEMs.
The company is presently working with OEMs to install new ELD-certified devices at the factory. Its ELD devices are already being installed in Ford and Hino commercial trucks.
At this year's Latitude event, company executives discussed recent investments that focus on the "customer experience," which include growing its customer support team by 110 percent in the last two years.
"This is an industry that historically has been made up of startups that built incredible platforms and solutions but had limited resources and bandwidth to invest in the customer," said Andres Irlando, chief executive officer of Verizon Connect.
The customer experience "is the difference so many of you are seeing in the investments we've made," he said. "We will be the leader in customer experience in this industry. I guarantee that."
Another major focus is data science and machine learning, explained Jason Koch, senior vice president of product strategy. Within this area of focus the company has developed a new application that identifies patterns in data for a decaying vehicle battery versus a low battery.
Another new development monitors the health of telematics units to identify errors or omissions in reporting vehicle and location data.
Updated products
Among the new updated offerings announced at Latitude are a new device for tracking trailers and other powered and non-powered assets. The device provides near real-time location alerts in the event of significant changes to the asset's temperature, tilt, vibration, shock, humidity, light and pressure.
The ability to monitor cargo conditions is especially useful for high-value trailer loads. With secure wireless data encryption, settings for the device are configured over the air. The device can be recharged via USB and has a low-power processor to extend its battery life.
A Workforce Mobile application has been enhanced with a new user experience to view upcoming jobs, mark jobs as complete, coordinate with the back office and obtain customer signatures all in one place.
During the conference, Verizon Connect announced a new versatile aftermarket device that can be installed quickly and universally in light, medium and heavy-duty trucks.
Another development is the Verizon Connect Marketplace that expands platform functionality for deploying integrated third-party applications. Its fleet customers can now order and activate integrated products from Verizon partners in fuel, maintenance, Customer Relationship Management (CRM) and other categories.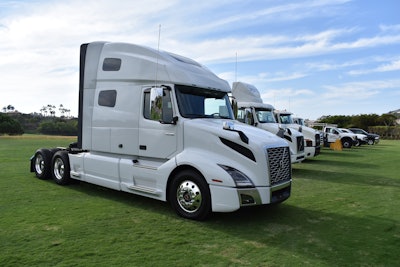 A new category of camera vision technology was launched as part of the Verizon Connect Marketplace. Products in this category use vision technology to capture following distance, lane departure and other risky driver behaviors and can also provide Proof Of Delivery (POD), cargo monitoring and grant driver access to the vehicle.
Mobile access to video clips captured by the camera vision systems is available via applications such as Verizon Connect Coach and Spotlight.
Proof of concepts
Irlando and other Verizon executives discussed benefits that fleets can expect using the new 5G network. The technology of current 4G LTE networks can support up to 300 individual devices per cell tower. Irlando said the 5G network Verizon recently launched can support 10,000 devices per cell, which expands the options for IoT devices and significantly lengthens the battery life of connected devices.
The extra bandwidth of 5G will also support the migration to autonomous vehicles, intelligent transportation systems, enhanced supply chains and smart cities, he said.
At the Latitude event, Verizon showcased a new proof-of-concept it is developing for fleets to identify and match their underutilized service and transport vehicles with other fleets to rent on a temporary basis. Think of Airbnb for commercial vehicles. It also previewed a low-cost asset tracking tool that is in the final stages of development that enables both in-vehicle and mobile handheld devices to communicate with low-energy Bluetooth tags attached to tools and devices.
By tagging tools like generators, air compressors and other equipment, fleets will be able to track and manage their tool inventory at job sites.
Verizon Connect is making strategic investments in companies that are developing future technologies for autonomous vehicles, electrification and delivery drones, Irlando said.