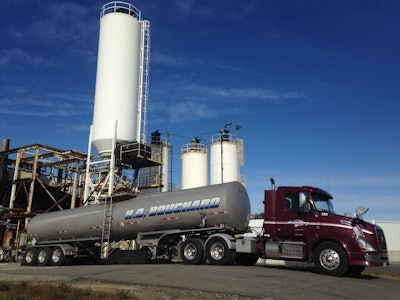 H.O. Bouchard, one of the Northeast's largest tank trailer fleets for heavy transport of energy fuels and industrial raw materials, has completed deployment of the SmartDrive video-based safety program with Extended Recording across its entire fleet.
In making the announcement, SmartDrive noted substantial improvement to the fleet's SmartDrive Safety Score — a leading indicator to objectively assess safe driving performance and compare drivers, sites and other organizational units.
"Since implementing the SmartDrive program, we've been able to provide coaching and feedback that has resulted in greater driver awareness, less-aggressive driving, and fewer public complaints," said Norman Patchell, H.O. Bouchard's director of safety and compliance. "It's reassuring to know that with SmartDrive we have video to clear our drivers when they are falsely-accused of wrongdoing and help reduce the risk associated with commercial transportation."
H.O. Bouchard is a specialized tanker fleet that also provides 18-wheeler truck maintenance to the Northeastern United States, Quebec and New Brunswick. H.O. Bouchard employs full-time driver trainers.
The company opted to deploy the SmartDrive Extended Recording capability to have access to more than just 10- or 20-second video events. Pairing exception-based recording with the DVR-like functionality offers "never-miss" protection for low-impact collisions, compliance and security incidents.
"SmartDrive Extended Recording provides additional evidence when minor collisions occur, so we've added it to our vehicles that travel in high-traffic areas, where low impact events are likely to occur, but don't necessarily trigger the video recorder," added Patchell.
"The value of video is priceless," he continued. "The SmartDrive program with Extended Recording gives us the whole picture through real-time footage, including sight and sound. I couldn't ask for more than that."