With 2018 being described as one of the strongest years in history for trucking companies, earnings reports from large publicly traded carriers continue to show zooming revenue and profits.
Those gains continued in the third quarter, with nearly all of the publicly traded trucking companies highlighted below seeing big gains year to date through September when compared to the same nine-month stretch in 2017, as well as big gains comparing 2018's third quarter to 2017's.
Below are the numbers on revenue, net income and earnings per share for each of the publicly traded carriers both year to date (YTD) and for the third quarter (3Q).
—
Covenant Transportation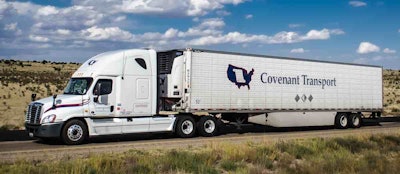 Revenue
2018 YTD: $613 million
2017 YTD: $501 million
2018 3Q: $243.3 million
2017 3Q: $178.6 million
Income
2018 YTD: $26 million
2017 YTD: $6.1 million
2018 3Q: $11.6 million
2017 3Q: $4.6 million
Diluted earnings per share
2018 YTD: $1.41
2017 YTD: 63 cents
2018 3Q: 34 cents
2017 3Q: 25 cents
—
Heartland Express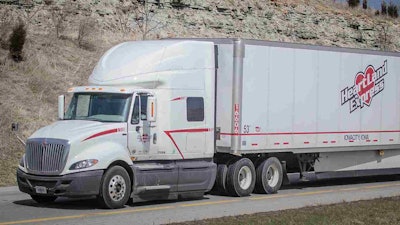 Revenue
2018 YTD: $463.8 million
2017 YTD: $441.6 million
2018 3Q: $151.3 million
2017 3Q: $182.1 million
Income
2018 YTD: $50.2 million
2017 YTD: $36.6 million
2018 3Q: $19.1 million
2017 3Q: $7.9 million
Diluted earnings per share
2018 YTD: 61 cents
2017 YTD: 44 cents
2018 3Q: 23 cents
2017 3Q: 9 cents
—
J.B. Hunt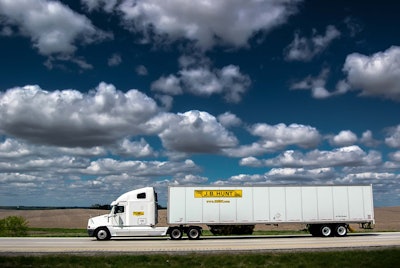 Revenue
2018 YTD: $6.3 billion
2017 YTD: $5.2 billion
2018 3Q: $2.21 billion
2017 3Q: $1.84 billion
Income
2018 YTD: $401 million
2017 YTD: $301 million
2018 3Q: $131.1 million
2017 3Q: $100.4 million
Diluted earnings per share
2018 YTD: $3.63
2017 YTD: $2.71
2018 3Q: $1.19
2017 3Q: 91 cents
—
Knight-Swift Transportation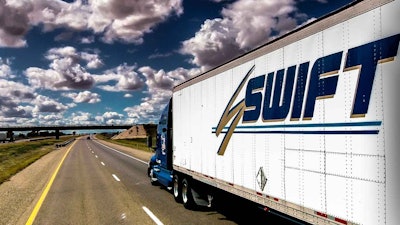 Revenue
2018 YTD: $3.95 billion
2017 YTD: $1.06 billion
2018 3Q: $1.35 billion
2017 3Q: $521.6 million
Income
2018 YTD: $267.6 million
2017 YTD: $36.7 million
2018 3Q: $105.9 million
2017 3Q: $3.8 million
Diluted earnings per share
2018 YTD: $1.50
2017 YTD: 41 cents
2018 3Q: 60 cents
2017 3Q: 4 cents
—
Landstar Systems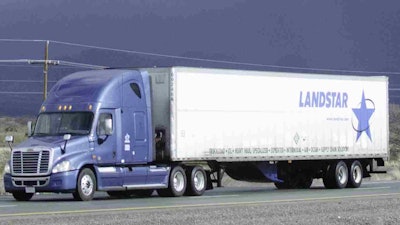 Revenue
2018 YTD: $3.43 billion
2017 YTD: $2.59 billion
2018 3Q: $1.2 billion
2017 3Q: $943.4 million
Income
2018 YTD: $187 million
2017 YTD: $112 million
2018 3Q: $67 million
2017 3Q: $42.4 million
Diluted earnings per share
2018 YTD: $4.50
2017 YTD: $2.67
2018 3Q: $1.63
2017 3Q: $1.01
—
Marten Transport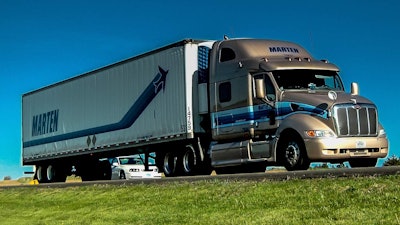 Revenue
2018 YTD: $583.6 million
2017 YTD: $515.3 million
2018 3Q: $199.6 million
2017 3Q: $170.7 million
Income
2018 YTD: $39.3 million
2017 YTD: $25.2 million
2018 3Q: $15.3 million
2017 3Q: $7.9 million
Diluted earnings per share
2018 YTD: 71 cents
2017 YTD: 46 cents
2018 3Q: 28 cents
2017 3Q: 14 cents
—
P.A.M. Transport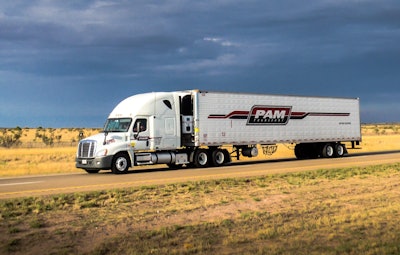 Revenue
2018 YTD: $395.1 million
2017 YTD: $326.9 million
2018 3Q: $140.3 million
2017 3Q: $108.9 million
Income
2018 YTD: $17.9 million
2017 YTD: $7.3 million
2018 3Q: $9.2 million
2017 3Q: $3.4 million
Diluted earnings per share
2018 YTD: $2.89
2017 YTD: $1.14
2018 3Q: $1.52
2017 3Q: 54 cents
—
Schneider National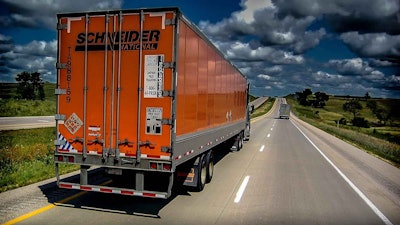 Revenue
2018 YTD: $3.66 billion
2017 YTD: $3.19 billion
2018 3Q: $1.28 billion
2017 3Q: $1.11 billion
Income
2018 YTD: $184.1 million
2017 YTD: $106 million
2018 3Q: $70.7 million
2017 3Q: $36.9 million
Diluted earnings per share
2018 YTD: $1.04
2017 YTD: 63 cents
2018 3Q: 40 cents
2017 3Q: 21 cents
—
USA Truck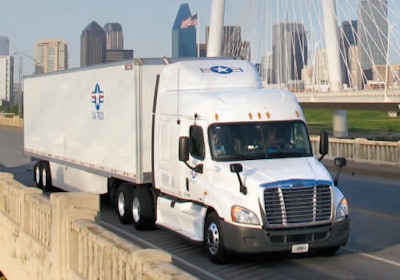 Revenue
2018 YTD: $393 million
2017 YTD: $323.7 billion
2018 3Q: $132.6 million
2017 3Q: $114.2 million
Income
2018 YTD: $12.5 million
2017 YTD: (7.6 million)*
2018 3Q: $5.8 million
2017 3Q: $1.8 million
Diluted earnings per share
2018 YTD: 84 cents
2017 YTD: (91 cents)*
2018 3Q: 40 cents
2017 3Q: 5 cents
*loss
—
U.S. Xpress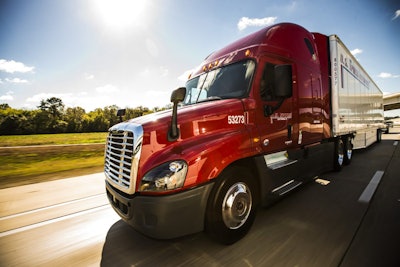 Revenue
2018 YTD: $1.33 billion
2017 YTD: $1.12 billion
2018 3Q: $460.2 million
2017 3Q: $390.1 million
Income
2018 YTD: $17.9 million
2017 YTD: ($13.6 million)*
2018 3Q: $16.1 million
2017 3Q: ($675,000)*
Diluted earnings per share
2018 YTD: 76 cents
2017 YTD: ($2.12)*
2018 3Q: 33 cents
2017 3Q: (11 cents)*
*loss
—
Werner Enterprises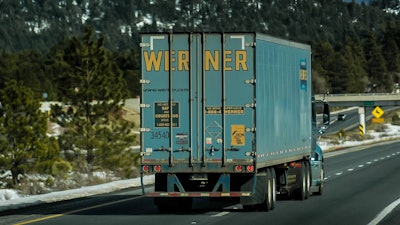 Revenue
2018 YTD: $1.81 billion
2017 YTD: $1.55 billion
2018 3Q: $629.7 million
2017 3Q: $528.6 million
Income
2018 YTD: $113.6 million
2017 YTD: $61.8 million
2018 3Q: $47.5 million
2017 3Q: $22.5 million
Diluted earnings per share
2018 YTD: $1.57
2017 YTD: 85 cents
2018 3Q: 66 cents
2017 3Q: 31 cents