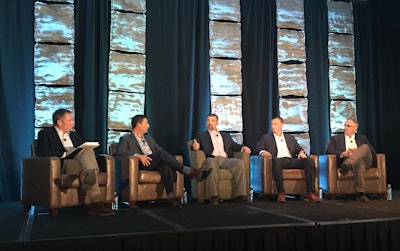 With more than 1 million pieces of equipment for-hire everyday, the competition for business is fierce and the relationship between shipper and carrier can often be the swing vote in who gets freight moved and who doesn't. A panel at CCJ Solutions Summit in Phoenix Wednesday looked at the dynamics and cooperation between the two.
Chris DeWolfe, logistics and inventory operations manager for United Pipe & Steel Corp., says he's given upwards of 20 companies an opportunity to haul for his business but most have failed to deliver for various reasons.
"Quality of service is always important until I can't get a truck then it's just give me any truck you have," adds Bruce Gustas, C.H. Robinson's director of North American surface transportation, which is projected to gross $15 billion in revenues this year. "Quality of service is always a huge discussion point."
Obviously cost is a consideration, but DeWolfe says he scores carriers on non-tangible metrics like communication.
"If you communicate with me, I can give that information to my warehouse and we can go on with our day," he says.
When the driver arrives, Navajo Express president Don Digby, Jr. says how they are treated can be a deciding factor in whether or not they'll ever come back.
"If you're not going to respect my driver, I can't haul for you," Digby says, adding carriers have to do a better job of making sure customers have the amenities a driver needs when they get on site. "If our drivers go to a facility, we have to demand of our customers that they have a restroom, that they have a vending machine, a place to sit… They need the driver as much as we do."
"You can't have the chicken without the egg," Gustas says, noting the driver is just as important as the customer. "Drivers are the backbone of what goes on in the business."
Gustas says being flexible with load and unload times and aggressively managing dwell time is key to being considered a shipper of choice, adding each of those are an extension of driver respect.
DeWolfe says his company has invested in its facilities to give drivers a comfortable place to take breaks. Heniff Transportation Vice President of Performance and Analytics Justin Neal says all the company's new facilities have placed an emphasis on driver break rooms and newer trucks.
DeWolfe says the conversation carriers have with shippers asking for improved driver amenities can be an uncomfortable one but they are necessary.
"I want to hear all that stuff,"he says. "What can we do to improve?"
In order to attract new business, Gustas says C.H. Robinson – with 70,000 contract carriers serving 110,000 customers – works to offer a unique, personalized experience.
"Making sure you have the right service for right partner is really what it's all about," he says.
Digby says adding a 57 foot trailer has helped get Navajo Express drivers home more often while also offering the company a unique position in the segment and the ability to get trucks off the road. Navajo Express was recognized as a CCJ Innovator for this effort in October, 2018. The company now operates a fleet of 1,000 trailers in the 57-foot length.
"We want to give our customers a different experience," he says. "It's given us specialized lanes and it's given us density in lanes."
Longer trailers can be a challenge for shippers, Digby says, because they're not used to ordering the added weight or volume.
"We want to deliver more for less," he says, noting the solution took 138 loads off the road for one customer. "By doing that, it also helps our rate per mile. Offering the 8 percent cube addition, our rates come up and we're able to pay our drivers more."
Neal says Heniff Transportation has seen its Top 10 customers grow 40 percent and by enabling a real-time Freight Portal for visibility to shipment locations and ETAs has added additional lane volume for its drivers; and the level of detail provided along the route has been "a big win for customers."
Technology has empowered carries with data about a facility's load and offload times, allowing the driver to decide if they want a given load.
"It's pricing, sales, understanding every lane and piece of business that we have, making sure it is driver friendly freight and making sure conducive to our overall strategies as company," Neal says.
CCJ Senior Editor Aaron Huff contributed to this report.