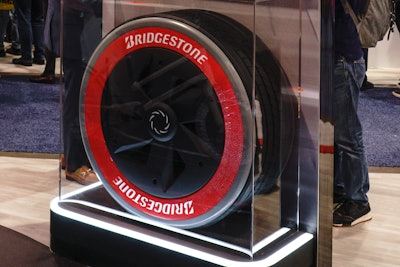 Tire problems consistently rank among the Top 3 most common CSA violations – putting 3,156 trucks out of service during last June's CVSA inspection blitz alone – but Bridgestone has a plan that could drop tire infractions to near zero by dropping the pounds of air pressure needed in its new concept to, literally, zero.
Airless tires (non-pneumatic tires) aren't inherently a new idea, but Bridgestone's development of a use-case in trucking is. Traditionally, NPTs have been deployed only in low-speed and off-road equipment like skid steers, zero turn mowers and golf carts. Last year, Michelin introduced a new non-pneumatic tire concept as part of a development program with General Motors for use on the Chevy Volt.
The first such potential entry for trucking, Bridgestone's non-pneumatic (NPT) commercial truck tire concept was developed for high-speed, long-haul applications on the trailer axle. In its design, the tire tread is laid over a unique sub-structure of high-strength resin, flexible spokes. The spokes absorb road input, vibration and shock much like air does in a standard tire, but the absence of air makes the tire puncture-proof.
"Low air pressure and damage from debris are cost drivers," said Jon Kimpel, executive director, new mobility solution engineering at Bridgestone Americas. "And an airless tire can address that. Combine that with a high retread rate, and an airless tire has the potential to lower the overall total cost of tire ownership for fleets substantially. Fleets are asking for this. From a maintenance perspective, there's no pre-checks for air pressure."
Data from tire manufacturers shows trailer tires account for roughly 20% of truck tire purchases, and research shows 40% of all tire failures occur in the trailer position. Tire problems also often occur on the road, and unplanned maintenance is not only inconvenient, it's also expensive.
"In a trucking business, if I have a flat tire I'm stopping my business," Kimpel said.
Michelin's Uptis concept features maximum speed of 130 mph and a max load of 1,102 pounds, while Bridgestone's NPT was designed for a much more freight friendly 5,000 pounds and 75 mph.
Advancements in material engineering and computer-aided design tools, Kimpel said, have made the bump in speed and overall weight-handling more feasible.
A scaled down version of Bridgestone's trailer NPT will be deployed on a fleet of bicycles at the 2020 Summer Olympics in Tokyo, which the company sponsors. However, simply scaling those tires up for a trailer hauling 50,000 pounds isn't as simple as it sounds.
"It's not easy from a technical standpoint," Kimpel said. Simply getting to the current "5,000 lbs. and 75 mph is a big jump," he added.
SInce Bridgestone's NPT spins on a specially designed beadless wheel, it wouldn't be a simple mount and de-mount solution should it ever make it to commercialization. But the tread itself, Kimpel said, is consistent with Bridgestone's Ecopia tires.
The tire will undergo internal simulated testing "for a few years," Kimpel said, before then moving to fleet customer trials en route to making, potentially, its public debut.