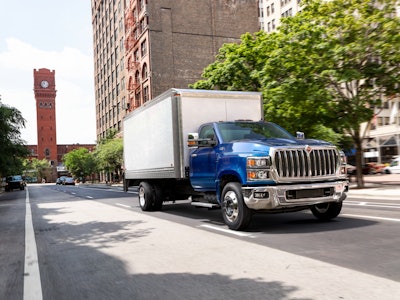 In 2018, I logged 92,690 air miles en route to trucking events across the U.S., Canada, Germany and Japan. Many of those miles were ticked en route to test drives – nine of them, in fact.
With truck orders at record heights this has been an important year for all OEMs, but aside from pumping trucks down the assembly line, a few new models made their debut.
Below is a brief rewind of the year in test drives incase you missed any of them when they were originally published.
Kenworth's hydrogen fuel cell Zero Emissions Cargo Transit (ZECT) T680 tractor, the fruit of a $7 million project between the Kirkland, Wash., truck-maker, the U.S. Department of Energy Office of Energy Efficiency and Renewable Energy and Southern California's South Coast Air Quality Management District, headed off to Total Transportation Services and the ports of Los Angeles and Long Beach earlier this year.
Before it headed south, I took it for a spin around Paccar's Technical Center in Mt. Vernon, Wash.
When I was a kid, I wanted to drive a truck. I didn't even really care what kind just as long as it was a big one, but I always had an affinity for refuse trucks. They're big, they're loud and they sling heavy cans around like they're nothing.
Mack's LR model was a comfortable can crushing ride.
When Peterbilt debuted its UltraLoft 80-inch sleeper configuration this Spring for the Model 579 tractor, it filled a gap in the company's truck catalog for fleets in search of a premium sleeper that maximizes space. With body panels and rivets minimized, and drip trays eliminated, the integrated UltraLoft features flat, smooth and more aerodynamic sides.
The model I took for a 100-plus mile ride outside of Dallas boasted 70 cubic feet of storage, while a double bunk configuration offers 64 cubic feet.
Severe duty and driver comfort aren't two things that usually go hand-in-hand, but the inspired refinement of International's HV Series lineup brings fit-and-finish to an unfamiliar place: the worksite. This isn't the only time you'll see an International truck on this list, but the HV – a gussied and refreshed up WorkStar – holds the distinction of being the first in 2018.
Next up: That's right, another International. When International debuted the MV Series earlier this year, it completed the company's Project Horizon product refresh and brought driver comfort and fit and finish to Navistar's medium duty segment. The Class 6/7 truck – the replacement to DuraStar as of the end of this year – missed out on many of the aerodynamic refinements found on its Project Horizon-inspired siblings like the LT and RH series, respectfully. But Navistar went all-in on driver comfort.
Peterbilt last year seized a record 20 percent of the vocational market – a gain driven largely by its Model 567. The work truck staple of Peterbilt's order book for the last five model years, the 567 was designed with excellent forward visibility and all of that came in handy along the sandy, dirt canyon trails of Gateway, Colo.
Anthem replaced Mack's Pinnacle axle-back models, and even though production only officially ramped up at the first of this year, demand for the new truck has exploded. Orders of 70-inch standup sleepers already are two times higher than they were for all of 2017.
My Anthem test this year holds two distinctions: At just a click under 1,000 miles, it was the longest of 2018 and it was the longest I've done to-date.
Peterbilt debuted its Model 567 Heritage two years ago as a modernized throwback to the working trucker and the truck has found a niche with fleets looking for a reward truck for their top drivers. With its bling-heavy blocky exterior, the vocational workhorse blends classic Pete styling with modern comforts and efficiencies.
I got to play cowboy trucker for 60 miles from Columbus to just outside Starkville, Miss., and got some pretty awesome looks along the route.
International bowed out of the medium duty vocational segment when it mothballed its TerraStar model in 2015, but the Lisle, Ill. truck maker came roaring back this year with a new Class 4/5 truck. The final piece of International's completely revamped truck lineup, the CV Series is not a consumer-grade vehicle and International says it was not designed for "average joes."
In late Fall, I got the play the role of "not your average joe" in the Chicagoland area.