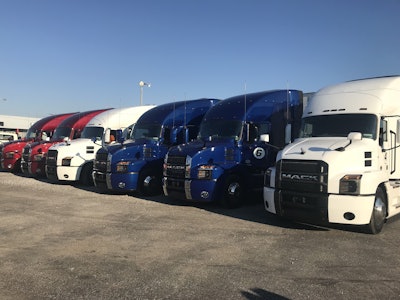 When Mack unveiled its new flagship tractor a year ago, the company set its sights squarely on seizing more long-haul marketshare — and it's working.
Anthem replaced Mack's Pinnacle axle-back models, and even though production only officially ramped up at the first of this year, demand for the new truck has exploded. Orders of 70-inch standup sleepers already are two times higher than they were for all of 2017.
I tested three Anthem configurations last week on a three-day nearly-1,000-mile drive from Asheville, N.C., to New Orleans. I made a similar run last year as part of a convoy that delivered several Anthems fresh off the assembly line in Allentown, Pa., to a trade show in Atlanta. That drive was more to get a feel for the Anthem themselves and their revamped driver-friendly features.
Our latest trek was about 200 miles further – with overnight stops in Nashville and Memphis, Tenn. – and was designed to test the fuel efficiency of the trucks and their drivers.
All the trucks were outfitted with Mack's mDrive 12-speed overdrive automated manual transmission and 13-liter MP8 engines, although power configurations varied. Each tractor featured a 70-inch standup sleeper and a 221-inch wheelbase.
Every wheel end was fitted with Aero wheel covers, and both the truck and trailer got a set of EcoFlap aerodynamic splash guards.
The trailers – loaded to a 67,000-lb. gross – were upfitted with Transtex Edge trailer skirts and tails. The tails were GPS-enabled to self-deploy and retract at highway speeds. This was a cool feature considering that tails can deliver upwards of a 4-percent fuel efficiency improvement, but many drivers opt not to fool with the hassle of opening and closing them manually.
A recent study conducted by the North American Council for Freight Efficiency, looking at the fuel-savings strategies deployed by 20 fleets nationwide, found carriers that are among the most aggressive in adopting fuel-friendly technologies achieved 7.28 mpg last year across a combined 71,844 tractors and 236,292 trailers.
All the tractors in our six-truck Mack convoy averaged well above the 7.28 mpg mark, and no trucked logged a number that low during any of the trip's segments. Each tractor obliterated the U.S. fleet average of 5.91 mpg.
Anthem with HE+ Package – The blue tractors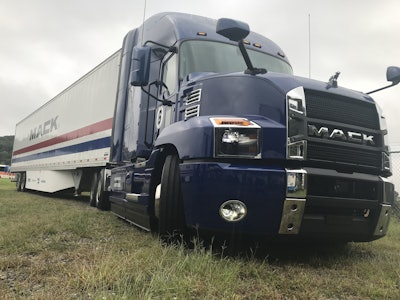 For the trip's first segment – a 120-mile run from Asheville to Knoxville, Tenn., for lunch, then another 180 miles to Nashville for the night – I climbed into a Cobalt Blue Pearl unit.
Despite its blocky muscular exterior, the Anthem includes a number of aerodynamic enhancements for improved fuel efficiency, and the HE+ package adds another layer with a roof fairing with trim tab, side fairings with extensions, chassis fairings with ground effects and an aerodynamic bumper with a spoiler.
Anthem models spec'd with the MP8HE engine and HE+ package achieve the U.S. Environmental Protection Agency's SmartWay designation.
Under the hood, these trucks were equipped with MP8HE-445SE engines (445 hp and 1,860 lb.-ft. torque) with Mack Energy Recovery Technology and used a 2.47 rear-axle ratio. The engine's fixed-geometry turbocharger is a simpler design that uses fewer moving parts.
ERT, Mack's modern spin on turbo compounding, captures waste energy from the MP8HE's exhaust and converts it to mechanical energy returned to the engine crankshaft as additional torque. Scott Barraclough, Mack technology product manager, says that while this process doesn't add more power, it "relaxes" the engine, allowing it to run at a lower rpm with less stress on components and improved fuel efficiency, durability and reliability.
The run out of Asheville is mostly downhill with tight switchbacks, so I deployed a liberal use of the engine brake. Gravity wanted to give me all kinds of free energy, but I wasn't comfortable taking it; as a result, I averaged 8.1 mpg over 302 miles. The driver of a truck spec'd identical to mine, clearly more adept at handling all the head speed, ended Day One with 8.9 mpg on the same route.
Over the course of three days, the blue tractors averaged 8.4 mpg.
With the tractors safely parked at McMahon Truck Center, the group of drivers were shuttled to Nashville's G7 Studio for an intimate evening concert with country artist Steve Moakler, the voice behind the Mack Trucks/country on-highway anthem "Born Ready."
Mostly standard Anthem – The red tractors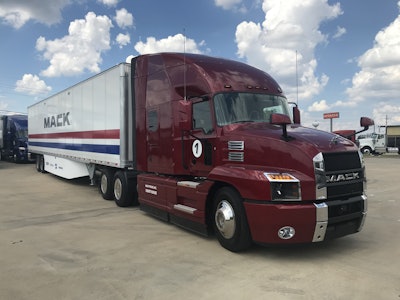 The basic configuration for an Anthem with a 70-inch standup sleeper includes an MP8-445C strapped to a mDrive transmission and a 3.08 rear-axle ratio.
These Lacquer Red Pearl trucks featured an MP8-445C (445 hp and 1,860 lb.-ft. torque) MaxiCruise engine, and the rear end got a more top-end-friendly 2.47 ratio.
Outside, standard Anthems get a roof fairing, side fairings with extenders and an aerodynamic bumper without a spoiler, but these two test units got a full aerodynamics package.
The hop from Nashville to Memphis was a quick one – a single 242-mile shot. With less hilly terrain, I was able to average 8.5 mpg on the day.
My tractor's identically spec'd sister unit did 8.3. On Day One, this setup posted 8.1 and 7.9 mpgs.
Thanks to a liberal use of cruise control, my mark was the highest fuel mileage average for the red tractors among all the drivers in our convoy. The three-day average for these trucks hit 8 mpg flat.
I guess you could say Day Two was "my day." After my mpg success, I also was asked to serve as Honorary Duckmaster at Memphis' Peabody Hotel. My job was to help the real Duckmaster lead a group of the Peabody's resident ducks from the lobby fountain back to their rooftop habitat. Being the top dog in a red Bulldog that day and Head Duckguy that evening made for a pretty memorable experience.
Anthem 6×2 lift axle with HE+ Package – The white tractors
These trucks featured an MP8HE-415SE (415 hp and 1,760 lb.-ft. torque) engine with ERT and the company's HE+ package.
Also notably, these trucks were a 6×2 configuration outfitted with a liftable pusher axle and automatic load biasing.
I was most excited about driving these Arctic White trucks. Between the ERT, the aero package, the 2.50 rear end and the 6×2, I was going to hit 10 mpg. Maybe 11.
"Hello? Guinness Book of World Records? Have I got a story for you!"
Day Three was a long 388-mile two-segment run from Memphis to Jackson, Miss., for lunch and then to New Orleans for the night. The white tractors averaged a robust 9.2 mpg for the entire journey, and many drivers flirted with 10 mpg. One driver even crossed that mark with 10.4 on Day Two.
However, my final-day 8.4 was the lowest mpg figure to come from the white units during the 932-mile trek.
Since Mack's ERT delivers the waste energy back to the crankshaft, the engine can operate at a lower power band – between 1,000 and 1,100 rpm. When I could keep my rpm near 1,050 for long stretches – cruising at around 62 mph – I would gain a tenth of fuel economy every few minutes. But just like in real trucking – where when you get there is just as important as that you get there – I consistently maintained a pace that kept me outside that optimized window where the fuel efficiency of the configuration really shined.
The driver of my truck's twin posted 9.8 mpg on this same leg. The twin truck also flirted with a 10-mpg average for the entire trip at 9.8 mpg.
If you drop my mpg figure from the convoy's average – I was the only one to park the truck with an average under 9 mpg – the two white units would have posted a combined average of nearly 9.5.
One of the elements on this truck I'd hoped not to test was the Bendix Wingman Fusion collision mitigation system. Just outside of Memphis, I moved into the left lane to let a car merge from the on-ramp. After making its way onto the interstate, the car sped around me, moved in front of me and climbed on the brakes to make a U-turn through the grassy median – all without signaling. The Fusion system – set to react to a half-second following distance – swooped into action, managing an aggressive braking event as the four-wheeler made its illegal about-face.
What did we learn?
You have to work pretty hard not to hit, or even cross, 8 mpg in a current-generation tractor. Sure, there are traffic, weather and load conditions that can make this impossible, but I think under normal circumstances, the tractor – even in the most basic configuration – wants to give you 8 mpg.
When you add aerodynamics and a hyper-efficient powertrain such as Mack's, you can bump 9 mpg with a driver who's willing to accept the kind of help that technology can provide.
A tractor feeds you all kinds of useful information; all you have to do is look for it and try to understand it. The numbers I posted on the second segment of each drive were consistently better than my numbers from the first. During the early part of the drive, I could determine what the truck liked and didn't like by watching engine load and fuel consumption data on the driver information display, and I used that feedback to influence my driving habits.
I logged my highest mpg mark in what should have been – and was, for average – the lowest mpg configuration in the convoy.
Even in the white tractor – where I posted a self-esteem-crushing average compared to my peers – I pulled a Segment One 8.1 mpg up to a more respectable 8.8 on the second leg.
The run also validated the benefits of Mack's ERT. The ERT-equipped blue tractors were 4 percent more fuel-efficient than the baseline red trucks, and the white tractors finally parked near Bourbon Street at Mack's Old River dealership with a 14-percent advantage.
Calculating a truck's total cost of ownership involves a lot of considerations, but I think the math for the purposes of this exercise across the Southeast is pretty straightforward: A fuel-efficient powertrain + good aerodynamics + a driver who is tuned in to both = plenty of bankable savings at the fuel island.
Among my biggest takeaways from this trip was just how quickly a driver can give up their fuel savings. It could take an hour to gain one-tenth of a mpg, only to lose it with 15 seconds of throttle climbing a grade. I lost two-tenths idling at a Mississippi weigh station and on the subsequent climb back up to highway speed.
As NACFE's report noted, the industry has a way to go to hit that 10-mpg fleet average. However, that capability exists today with the right driver and the right specifications. Mack has unquestionably proven that.