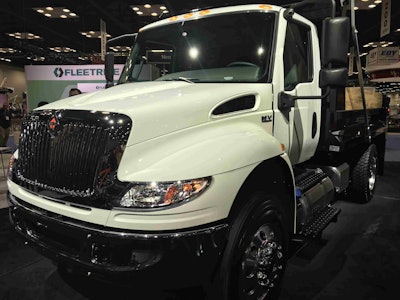 International at the Work Truck Show in Indianapolis on Wednesday officially launched its new Class 6/7 MV Series truck.
The MV Series, the eventual successor to the DuraStar, completes the company's Project Horizon product refresh and features improved cab design and other driver-centric enhancements already found across International's Class 8 trucks.
"Vocational trucks are low-speed trucks and at anything under 35 miles an hour, aerodynamics aren't as important," says Mark Stasell, vice president of Navistar's vocational truck business, who notes that MV borrowed mostly interior design elements from Project Horizon. Stasell says the design of the front of International's Class 6/7 truck hasn't changed measurably since 2001.
Michael Cancelliere, Navistar's president of Truck and Parts, says the MV Series was designed to be easily configurable with features that include new cab doors with a lower bottom glass edge and the removal vent window – a design that gives the driver a single larger piece of glass to look through, which improves side visibility and reduces blind spots.
Jeff Sass, Navistar senior vice president of sales and marketing, says the MV features a 4 percent visibility improvement over the company's DuraStar.
By reshaping the doors and side glass, Sass says the position of optional pedestal mirrors was optimized so drivers turn their heads less, keeping their eyes on the road and reducing neck strain.
"The head turn is 5 degrees to the left and 15 degrees to the right less than standard mirrors," Sass says.
A new premium gauge cluster with a digital driver display was added for the realtime monitoring of vehicle operation. The new display also offers up to 15 customizable digital gauges.
The new premium instrument panel features a customizable digital display suitable for medium-duty applications. The flat-panel dash contains space for up to 30 customizable switches ensuring functionality for any type of body that is mounted on the back. The switches offer large easy to read text and are back lit for easy viewing at night. In that the switches themselves are larger, Sass says drivers can easily use them with gloves on.
The new stalk shifter and integrated engine brake on the lower instrument panel design improves leg room for the driver, especially at the knee. A 50 degree wheel cut could provide a 40 feet curb-to-curb turning radius, Sass adds.
The MV Series is also equipped with a new HVAC system, which includes a high-performance MAX defrost feature.
"In 25 minutes we were able to completely clear the windshield [in zero degrees]," Sass says, noting an additional vent has been added to help keep the middle front passenger comfortable.
MV Series features Diamond Logic, International's advanced electrical system that streamlines chassis and body equipment integration and offers customers nearly 200 factory available body integration and driver efficiency features, plus the ability to customize more vehicle functions.
Sass says the Diamond Logic electrical system is known for its ability to provide control and communication between trucks and body equipment, adding "we have designed the MV Series to seamlessly integrate with any body solution. This truck can be easily configurable for any application."
The MV Series can be managed digitally through the OnCommand Connection platform, which features the Advanced Remote Diagnostics system designed to enhance fleet efficiency, as well as Over-The-Air (OTA) programming through the nine-pin OnCommand LINK device, enabling drivers or fleet managers to utilize a mobile interface to initiate authorized engine programming at the customer's facility over a secure Wi-Fi Connection. OnCommand Connection telematics, including telematics hardware and monthly data packages, are also available through International Truck dealers or through OnCommandconnection.com.
The MV Series is available in Regular Cab, Extended Cab, and Crew Cab and can be spec'd with either the Cummins B6.7 or L9 engine. The Navistar N9 engine will not be available.
The standard transmission on the MV Series is the Allison 1000 HS automatic, with Allison FuelSense 2.0, with DynActive Shifting as an available option that features a patented torque converter to provide infinitely variable shift points based on vehicle configuration operating conditions.
The company is currently taking orders with market availability expected in the spring.