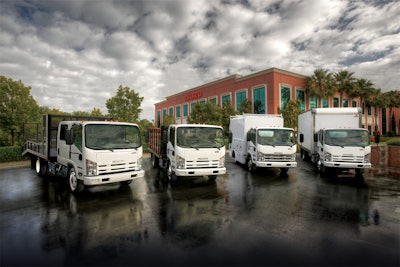 Isuzu Commercial Truck of America announced this week it broke multiple sales records in 2018, making last year its new benchmark for sales of Isuzu-brand trucks and Isuzu parts.
This marks the fourth year in a row Isuzu has established records in these important metrics, the company says. Isuzu dealers sold 23,914 Isuzu trucks to customers in 2018 — a U.S. record for Isuzu-brand trucks. Isuzu parts sales increased 5.9 percent versus 2017, setting yet another record.
"Despite increased competition, four factors worked in our favor to make 2018 a banner year," says Shaun C. Skinner, president, Isuzu Commercial Truck of America and Isuzu Commercial Truck of Canada, "Those factors being the loyalty of our customers, the dedication of our dealer body, the hard work of our field force and the superiority of our product line."
Skinner says he anticipates the company will continue its momentum in 2019 with low unemployment numbers, housing starts that are expected to run at strong levels, and online retailing that will drive a need delivery trucks.
"With a lineup that ranges from Class 3 to Class 6 and includes diesel, gasoline, LPG and CNG engines, we are well positioned to make 2019 another record-breaking year for Isuzu," Skinner says.