CCJ's Indicators rounds up the latest reports on trucking business indicators on rates, freight, equipment, the economy and more.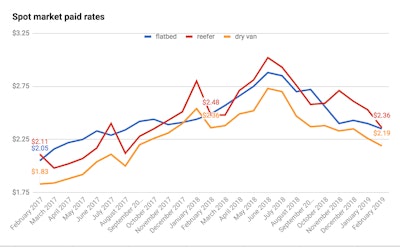 Per-mile rates on the spot market tumbled in all three major truckload segments — reefer, dry van and flatbed — in February, the last month of the typical winter slow down before the usual March-through-June upswing.
Rates in all three segments also posted year-over-year declines, though they're now competing with the record-hot rates seen in the first half of 2018.
According to data from Truckstop.com on per-mile rates paid to carriers in its loadboard, flatbed rates averaged $2.35 a mile in February. That's a nickel-a-mile dip from January and a 14-cent drop year over year.
Reefer rates fell 17 cents from January, according to Truckstop.com, to $2.36 a mile. They were down 12 cents from February 2018.
Lastly, dry van rates slipped 7 cents a mile to $2.19. Compared to February 2018, van rates were down 17 cents a mile.