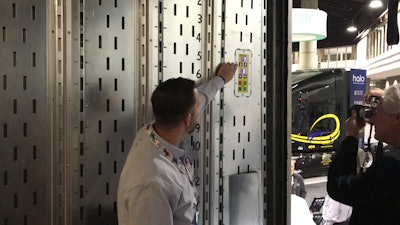 Ancra Cargo brought autonomy to trailer decking Tuesday at ATA's Technology & Maintenance Council (TMC) Annual Meeting in Atlanta with its new AutoDeck system.
Ancra President Larry Bethel says AutoDeck is a first-of-its-kind system that enables loading dock staff and drivers to automate the height of every trailer decking beam with the push of a button. Built with regard for operator safety, Bethel says the easy to use automation features will lead to a higher utilization of decking systems, reducing time to load and improve both satisfaction and safety for logistics staff.
"The Ancra Cargo AutoDeck system is the next step as freight carriers aim to have the most effective and efficient tools in place," he says. "It takes out the manual element of decking systems, which will increase usage and reduce the time to load by 20 percent."
Though currently in pilot program with a transportation carrier, Ancra says it hopes to make the AutoDeck solution available as an OE spec or retrofit options by mid-2020, similar to its other decking solutions. The company says retrofitting the AutoDeck can be completed on a single trailer in eight hours, and the company will rely on a national network of installers to bring the product to the marketplace.
"Safety, innovation and efficiency are top values for Ancra Cargo," says Bethel. "The AutoDeck system will make moving freight more efficient with similar maintenance costs as other decking systems, so everyone from the manufacturer to the consumer benefits."