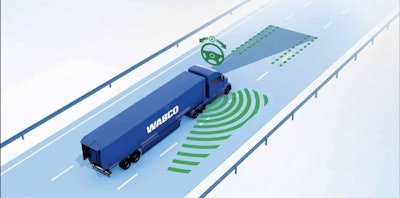 As Wabco continues to develop technologies for its suite of advanced driver assistance systems for commercial vehicles, the company announced three new offerings in its ADAS portfolio, including Active Lateral Safety, an upgrade to its OnGuardActive collision mitigation system and a collaboration with SmartDrive Systems to provide safety event video recording.
The SmartDrive collaboration integrates the video event recording company's SR4 video telematics platform with Wabco's lane departure warning and active lane keeping assist to capture safety-related events all using the OnLane camera system. The integrated approach allows fleets to combine services in a single integrated camera.
"This additional functionality completes our vision of a comprehensive active safety suite by combining our proven active steering and ADAS products with video documentation of critical events that affect driver and fleet safety, liability and operating costs," said Jon Morrison, Wabco's president, Americas. "Our collaboration with SmartDrive enables us to extend our technology leadership by providing a complete, single-source platform that can help fleets achieve an additional level of safety."
As part of the service, fleets can record a range of safety related events, including collisions and ADAS triggers, including lane departure warnings, forward collision warnings, short following distances, fishtailing and roll stability and ABS events.
The new SmartDrive system is available for new trucks using OnLaneAlert and as a retrofit option for all trucks in the fleet.
The newest version of Wabco's radar-based OnGuardActive collision mitigation system has enhanced filtering capabilities and a detection range of 650 feet with far- and near-range dual-beam radar to provide full braking at up to 37 mph on stationary and moving objects.
Wabco's new Active Lateral Safety technology suite combines the company's Sheppard active steering system with Wabco's existing OnLaneAssist (lane-keeping assist) and OnSideAssist (blind spot detection) to prevent the driver from drifting out of lane and provide steering wheel resistance when a vehicle is detected next to the tractor-trailer combination if the driver is changing lanes.
"By combining these technologies into an integrated safety package, we have extended the benefits of active steering to two of the most common critical events leading to accidents – drifting out of the desired travel lane and failing to detect a vehicle in the driver's blind spot," said Morrison. "Together, these solutions enhance vehicle intelligence and protection to support the overall success and safety of on-highway fleets."
Wabco's active steering technology uses magnetic torque overlay to counteract drifting from road crowns and side wind gusts by applying assistive torque to the steering wheel when necessary.
OnSideAssist provides a 160-degree range of lateral radar coverage as well as rearward reach of up to 33 feet in all visibility conditions.