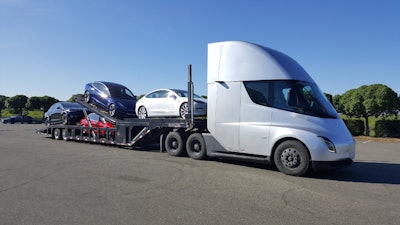 News and updates from Tesla's much-hyped all-electric Semi program have all but dried up since the truck's official announcement in late 2017, but over the weekend CEO Elon Musk tweeted a pic of the truck in action – kind of.
The picture, posted Saturday to Musk's personal Twitter account, shows the Semi hitched to a small car hauler loaded with four of the company's electric Model 3 sedans. Tesla notified shareholders and the Securities and Exchange Commission earlier this month that in exchange for nearly 50,000 shares of Tesla stock – a deal worth nearly $14 million – the company acquired portions of Central Valley Auto Transport's car-hauling fleet. But those trucks are conventional diesel-powered units.
Central Valley, based in Strathmore, Calif., operates a fleet of 95 trucks, according to public information within the Federal Motor Carrier Safety Administration's Safety Measurement System program. Tesla's notice to the SEC did not specify how many trucks, trailers or drivers it has acquired from Central Valley, only noting that Tesla had purchased "certain car-hauling trucks and trailers."
Tesla is currently focusing its production energies on the Model 3, which has been plagued by delays. The promotional hype machine has honed its attention on the upcoming Model Y crossover while the message boards and rumor mills have been enamored with the potential of a Tesla pickup, leaving the Semi seemingly the odd-model out.
However, in a follow up tweet Musk acknowledged the big rig was still on the company's radar screen.
We've been so mired in production & logistics for past 18 months. Really looking fwd to getting Semi into production.

— Elon Musk (@elonmusk) March 30, 2019
Tesla has said it intends to commence production of the Semi this year.
The company hasn't confirmed order figures for the Semi in nearly a year when last May Musk pegged the figure at "about 2,000" units. UPS, FedEx, PepsiCo, Anheuser-Busch, J.B. Hunt and Walmart are among the carriers with Semis reserved.