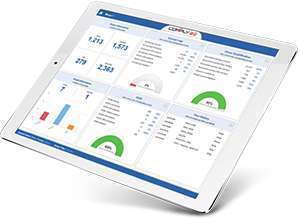 DriverReach, a mobile-enhanced recruiting management system for hiring CDL drivers, formed a strategic partnership with Fleetworthy Solutions.
Fleetworthy Solutions' Intelligent Compliance technology will be integrated into the DriverReach platform to ensure companies are maintaining all necessary risk management, safety, and compliance measures throughout every stage of the recruiting and hiring process.
The new partnership is designed to give fleets an all-in-one recruiting system that integrates safety and compliance technology into an applicant tracking system (ATS).
"This partnership with Fleetworthy Solutions is a part of the strategic growth plan DriverReach will continue to follow in 2019," said Steve Iskander, chief growth officer of DriverReach.
"Our goal at Fleetworthy Solutions is to raise the level of importance of compliance industry-wide," said Michael Precia, chief executive of Fleetworthy Solutions. "Partnering with DriverReach is our way of ensuring the industry has a recruiting management system they can trust to be just as compliant and secure as the compliance solutions we offer."