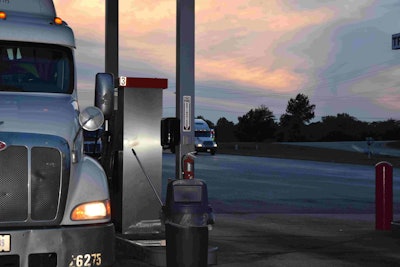 Average diesel prices across the U.S. increased during the most recent week by 1.5 cents, bringing the nation's average for a gallon of on-highway diesel to $3.093.
The increase brings prices to their highest mark since mid-December. Prices increased in all regions during the week ending April 8 except New England, which saw a three-tenths of a cent decrease. The most significant increase was seen in California, where prices jumped by 6.1 cents.
California's increase continues the state's hold on the nation's most expensive diesel prices at $3.91 per gallon, followed by the Central Atlantic region at $3.324 per gallon.
The cheapest fuel can be found in the Gulf Coast region at $2.879 per gallon, followed by the Midwest region at $2.993 per gallon.
Prices in other regions, according to DOE, are:
New England – $3.193
Lower Atlantic – $2.998
Rocky Mountain – $3.028
West Coast less California – $3.189
ProMiles' numbers during the same week saw fuel prices increase by 1.1 cents to $3.001 per gallon.
According to ProMiles' Fuel Surcharge Index, the most expensive diesel can be found in California at $3.782 per gallon, and the cheapest can be found in the Gulf Coast region at $2.871 per gallon.