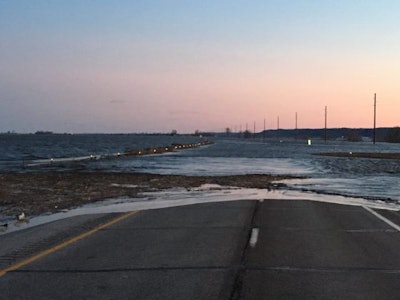 The regional emergency declaration covering 16 states in the Plains and Midwest affected by severe flooding has been extended. The declaration was originally set to expire April 18 and has now been extended to June 3, or until the end of the emergency, whichever is sooner.
The Federal Motor Carrier Safety Administration this week announced it is extending the declaration because emergency conditions have not abated in the affected states.
The declaration gives truck drivers providing direct relief to the affected areas temporary relief from hours of service regulations.
States included in the declaration are Arkansas, Illinois, Iowa, Kansas, Kentucky, Louisiana, Minnesota, Mississippi, Missouri, Nebraska, Ohio, Oklahoma, South Dakota, Tennessee, West Virginia and Wisconsin.