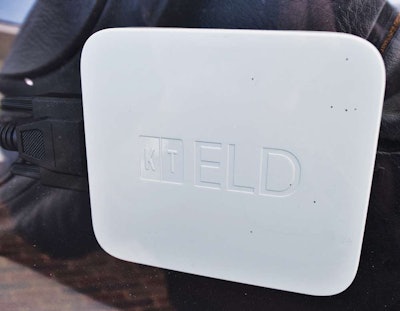 Electronic log provider KeepTruckin announced April 23 it has received $149 million in Series D investment funding, with the company valued at $1 billion. The latest round of funding brings KeepTruckin's total investment capital to $228 million.
The company says it will use the new round of cash to fund new hires, invest in hardware, form new partnerships and to further its work in machine learning.
The investment was led by Greenoaks Capital, with participation from existing investors IVP, GV, Index Ventures and Scale Venture Partners.
KeepTruckin touts a user base of more than 250,000 vehicles across more than 50,000 carriers, with a heavy presence among owner-operators and small fleets. In addition to its smartphone-based electronic logging device, the company also provides fleet management software and video monitoring systems.
"Our mission is to connect the world's trucks and fundamentally improve the safety and efficiency of the trucking industry while helping companies grow. We believe that if you can model the past, you can predict and even shape the future," said Shoaib Makani, CEO and co-founder, KeepTruckin. "Our platform unlocks the data that makes this vision possible. The Greenoaks Capital team along with our existing investors share our belief that technology will transform trucking."
KeepTruckin has seen substantial growth in recent years. It's grown to roughly 1,000 employees worldwide, based in seven offices globally.
The company announced earlier this month plans to expand into freight-matching, based on its acquisition of a brokerage and via the use of ELD data. It also announced a new service dubbed Facility Insights, designed to give carriers insights into shipper and receiver facilities.