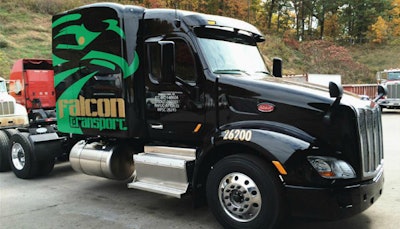 Falcon Transport — the roughly 700-truck fleet that suddenly shuttered operations late last month and left its drivers, equipment and freight stranded — says it did not notify employees before its closure because the company was trying to raise capital to keep the business afloat. Notifying employees before its closure would have jeopardized those efforts, the company said in filings to the Ohio Department of Job and Family Services. The company was headquartered in Youngstown, Ohio.
Falcon drivers have filed a class action lawsuit against the company for its failure to provide them with a 60-day notice before the mass layoff, which is required by federal law via the Worker Adjustment and Retraining Notification (WARN) Act.
The company filed its WARN notice to the state of Ohio this week — weeks after its abrupt closure. The company attributes its failure to provide the required 60-day notice to its attempts to drum up funding, as well as "unforeseen circumstances relating to material impairment of operations and the inability to realize on outstanding receivables, including, without limitation, issues associated with Falcon's largest customer closing several operations."
Falcon did not state who that customer was, but it's widely believed to be General Motors, who recently shut down manufacturing operations in the Youngstown, Ohio, area. Falcon serviced those operations.
The company also cited new business falling through and a ransomware attack on its systems as key reasons for its demise and reasons for its lack of notice to employees.
Three WARN notices from Falcon were filed with Ohio this week, listing roughly 110 drivers as being affected. However, the company is estimated to have more than 500 drivers. According to data from FMCSA's Safety Measurement System, the company employed 585 drivers.
A former employee at Falcon said that, in addition to stranding more than 100 drivers without fuel or a way home, the company left its equipment and millions of dollars in freight stranded and brokers, drivers and insurers unpaid.