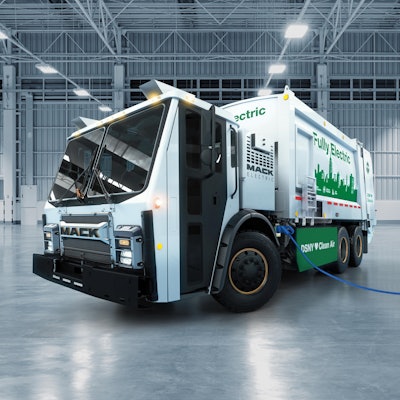 Mack Trucks on Tuesday debuted an all-electric version of its LR refuse model, a battery-powered model that will begin testing next year by the New York City Department of Sanitation.
The truck produces zero tailpipe emissions and is "powerful, yet quiet," says Jonathan Randall, Mack's senior vice president of marketing.
The electric LR is powered by a powertrain consisting of two 130-kW motors, a two-speed Mack Powershift transmission and a Mack-proprietary S522R-52,000-lb. rear axle. The truck features a copper-colored Bulldog hood ornament, signifying that it's an electric vehicle.
All of the LR BEV's accessories, including the hydraulic systems for the Heil DuraPack 5000 body, are electrically driven through 12-volt, 24-volt and 600-volt circuits. Four NMC lithium-ion batteries are charged via a 150kW, SAE J1772-compliant charging system.
Mack says New York's sanitation department is an "ideal choice" to receive the first unit for real-world testing. In addition to being one of the company's largest customers, refuse and recycling collection are well suited for electric vehicles, the company says, as they have predetermined routes and return to base after every shift and therefore remove concerns about range and charging locations. Frequent starts and stops also provide regenerative braking opportunities to recapture energy, the company says. Lastly, since the trucks produce no emissions and are quieter, they can be run at night.
Mack unveiled the electric LR at the WasteExpo in Las Vegas, ongoing until Thursday, May 9. Randall says the unit "is the latest example of Mack's leadership within the refuse and recycling industry."