CCJ's Indicators rounds up the latest reports on trucking business indicators on rates, freight, equipment, the economy and more.
Spot market freight disappoints in May: The usual spring uptick in truckload freight volumes seen on the spot market has failed to truly materialize through May.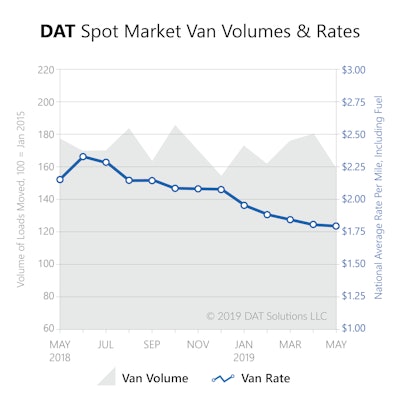 According to DAT Solutions, who operates one of the nation's largest freight marketplaces, van freight — which accounts for about 70 percent of all truckload freight hauled — declined 12 percent in May from April. Van volume was also down 10 percent from the same month last year.
"Simply put, May was a disappointment in terms of load counts," said DAT Senior Industry Analyst Mark Montague. "We're accustomed to seeing higher volumes of retail goods, fresh produce, construction materials, and other seasonal spot truckload freight moving through supply chains at this time of year."
DAT blames weather and trade turmoil for the spot market slump. Uncertainty over trade agreements and dropping imports from China seemed to dampen truckload demand, DAT says. Record rainfalls, flooding and tornadoes also hampered freight movements in many parts of the country.
Agriculture producers saw their supply chains disrupted by the weather, with many harvests ruined or delayed. As a result, refrigerated volumes declined 8.3% month over month and fell 12% year over year.
Flatbed load volume, which includes heavy machinery and construction material, dropped 9.3% month over month and 3.1% year over year.
Spot market rates also tracked well below the record level's seen last spring and early summer, DAT says.
'Trucking Conditions' remain negative: The FTR Trucking Conditions Index, a measure of market conditions for fleets, improved in April, but they remain in negative territory as rates continue to soften.
FTR projects the index to remain in slightly negative territory through 2019 and into 2020, with economic indicators underlying freight demand continuing to show weakness.
"Not that long ago, it seemed inconceivable that the good times in trucking would end, but here we are back down to Earth," said Avery Vise, FTR's vice president of trucking. "Growth in manufacturing – the most significant driver of trucking activity – has subsided, and residential construction remains stagnant. However, there are some near-term positives, such as lower diesel prices. Also, carriers are responding to flagging demand by ending their hiring spree, which could set the stage for firmer capacity utilization down the road."