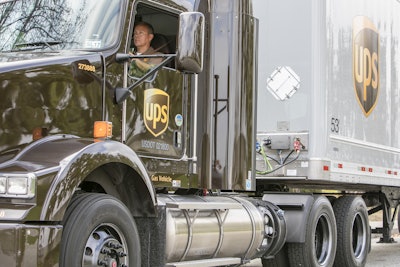 The nation's largest fleet, UPS, is petitioning the Federal Motor Carrier Safety Administration for an exemption from certain provisions in the entry-level driver training rule that will go into effect Feb. 7, 2020.
In its request, UPS asks for exemptions from the requirement that a driver training instructor have two years of experience and have held a CDL for two years, and the requirement to register each training location for a unique Training Provider Registry (TPR) number.
The entry-level driver training rule was published in December 2016 and sets minimum standards for truck driver training and curriculum.
The company says it has a driver training school that trains its employees to become driver instructors. UPS describes its school as a success, having trained "hundreds of driver instructors, many of whom did not have previous CDL experience."
The UPS school is an eight-week program that trains supervisors and managers to provide training to drivers at their home locations, and the curriculum in the school covers all topics required by the new driver training rule, the company adds. Additionally, UPS says the instructors at the school have, on average, 20 years of UPS experience, hold a CDL with the necessary endorsements and have maintained their instructor certification through quarterly training.
UPS requests it be exempted from this requirement of the rule because "no one could be an instructor at the time these regulations go into effect unless he/she had obtained a CDL and had begun driving by Feb. 7, 2018." The company adds that if it is required to comply with the instructor qualification requirements in the rule, it will not be able to use 25% of its current certified driver instructors. UPS also says the exemption is needed to meet union contractual requirements.
For the second part of the exemption request, to register each training location for a TPR number, UPS says its training for new drivers takes place in many locations. The company says it needs the exemption from the requirement "due to the significant administrative burden that would result if it had to register every UPS location at which a new driver could be trained." UPS says its new driver training can occur at as many as 1,800 separate locations each year.
UPS' petition is open for public comments for 30 days, beginning Wednesday, June 19. Comments can be made at www.regulations.gov by searching Docket No. FMCSA-2019-0139.