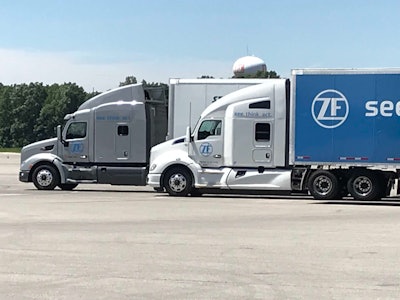 To some degree, hazing the new guy is a time-honored tradition.
When I was a kid, freshmen who came out for varsity ball used to have carry all the equipment and there's all kinds of nicknames for the new kid on the block. "Fresh meat" and "rook" are about the only two I can print here, but y'all know the others.
I get the sense this is less common with the current generation across most walks of life, with the exception of a couple corners of the universe: like trucking.
"Steering wheel holder."
I hear that term just about everywhere, generally to describe anyone who's new to the industry and not driving a chromed-out pre-EPA brick equipped with an 18 speed manual.
There are a host of tools and technology available today that make truck driving easier than it was 35 years ago, and I don't think embracing them is a testament to your inability to otherwise properly operate a vehicle.
I took my CDL test on a 13 speed and I don't think I've driven one since. I've had to back into more truck stop parking spots than I can count and I've managed to do that each time without taking part of someone else's truck or trailer for a ride – something I've personally witnessed career drivers do. Twice.
My GPS has taken me into some pretty hairy residential conditions and I've managed to get out without causing damage to the truck or private property. I can and have safely operated a heavy truck in just about every real-world condition, but I'm still probably the urban dictionary's definition of a steering wheel holder.
I love adaptive cruise and lane keeping assist platforms, and I'm all about an AMT.
Collision mitigation, namely automatic emergency braking, has saved my bacon more than once. Coincidently, once in a Mack and another in a Volvo. Each time I was cut-off by a four-wheeler that missed its freeway exit and decided to right that wrong from the wrong lane and across the hood of my tractor.
I was able to drive ZF's electrically assisted hydraulic steering system in June – another techie driver aid that I have fallen for.
When equipped with ReAX, the truck's steering wheel requires as much as 70 percent less effort to turn in a static state, boosting ergonomics, reducing driver stress and fatigue. That's all well and good – and true, I guess – but I had driven this setup before. On this particular drive I made a special request. I wanted to back the truck and trailer.
The ReAX unit self-centers, so you never have to guess when the wheels are straight.
If you've ever closely monitored a rest stop truck parking lot, or a receiver's loading dock, oversteer (or over-correction) is a major problem for many people in reverse. ReAX enhances maneuverability by controlling the response of the steering system, providing better positional control and the ease of steering makes it easier to maneuver in tight spaces. That kind of finesse control, when coupled with self-center capabilities, really shines in reverse.
I pulled my Pete out of its parking spot at and angled it slightly before dropping it into reverse. It only took a couple twitches of the wheel with a couple fingers – remember, 70 percent less effort input – to slide it right back.
The self-centering took the sketchiest part of backing up off my plate.
I don't believe this kind of technology turns people who can't drive into good drivers, and I know there are a lot of bad ones out there. I've seen the YouTube videos.
If you can't back a 53-feet long box into a parking spot without ripping down a light pole, ReAX can't help you. Just like if you don't understand off-tracking and the finer posts of speed's effect on braking distance, no amount of hardware or innumerable radar sensors will change the inevitable outcome.
These aren't magic talent wands and it's not the dumbing down of a profession. New tech makes parts of driving easier and safer. You still have to be skillful.
You can have a lot of respect for your fellow drivers and the legacy and romance of the open road, but still appreciate the technologies than make a hard job a little less hard. Maybe that makes you "new school" or maybe that's how you earn the fresh meat tag, but I don't think that makes you a steering wheel holder.