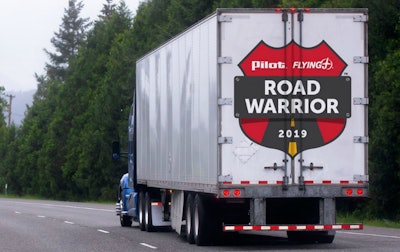 Pilot Flying J is now accepting nominations for its sixth annual Road Warrior program, which recognizes truck drivers in the U.S. who go above and beyond in their jobs.
The nomination period is open through July 21, and the grand prize winner will receive a $10,000 prize. Second and third place finalists will receive $5,000 and $2,500, respectively. Nominators of the first-, second- and third-place finalists will also receive $500.
In August, PFJ will ask its social media community to vote amongst the top three finalists to determine the grand prize winner. Winners will be announced during National Truck Driver Appreciation Week in September.
Last year, UPS driver Victoria Andrade was named the grand prize winner. Andrade was nominated by her family, who said they are proud of her for being "a fierce woman and an outstanding employee for UPS."
Nominations can be made online at this link. Submissions require a photo of the nominee and a story about what makes them a "Road Warrior."