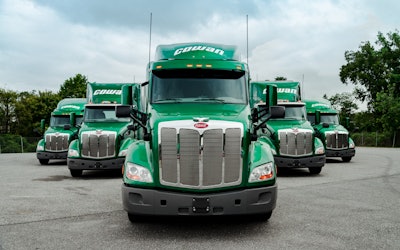 Amid a shortage of drivers, large carriers are finding opportunities to grow by negotiating with owners of smaller, family-owned businesses who are looking to cash out and retire.
"A lot of times when you are looking at companies, it is almost exclusively because of drivers," says Dennis Morgan, president of Cowan Systems, a privately held truckload carrier with 2,500 trucks.
Over the past 10 years, Cowan Systems, based in Baltimore, Md. (No. 57 on the CCJ Top 250 list), has acquired about five companies, Morgan says.
On Thursday, July 11, Cowan announced the purchase of Carlisle Carrier Corporation of Mechanicsburg, Pa., a Northeast regional truckload carrier that specializes in grocery warehouse and direct store deliveries. Its operating network reaches from Maine in the north to Virginia in the south and Ohio to the west.
Before this acquisition, the most recent purchase by Cowan Systems was family-owned truckload carrier Dick Harris Trucking based in Madison Heights, Va., in March 2017.
Morgan says the valuation of trucking companies is typically three to six times their annual earnings. Companies on the further end of the valuation spectrum have a greater scale and customer mix.
Carlisle Carrier Corp. was attractive to Cowan with its more than 100 active customers and 250 drivers, Morgan says.
Cowan Systems' largest customers are in retail, paper, plastics, grocery and beverage industries. The acquisition will expand the company's network in the Northeast region, and diversify its customer base, he says.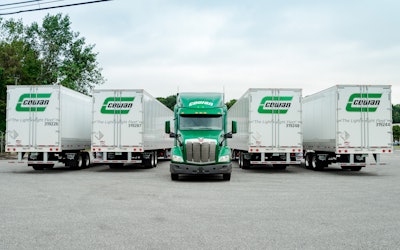 The founder of Carlisle, Dave Metzler, started the business in 1990 with four owner-operators and five trailers. After reaching 250 trucks he maintained the fleet's size at that level.
"I think there is a lot of opportunity to grow his business, and help Cowan grow at the same time," Morgan says.
Metzler has retired, but the entire employee base is staying on through the acquisition. "We are going to operate them as a separate division and merge where it makes sense," Morgan added.
Over the next year, Morgan says Cowan will be moving Carlisle's operating data over to a common management platform. Currently, the transportation management software used by Carlisle is the Innovative AS400 system from Trimble Transportation. Cowan is on Trimble's TMWSuite product.
"As soon as it is practical we will eliminate Innovative and put all their information and history into our system," Morgan says. "Once all that data can be in one database, we will share information to fill empty lanes."
Stifel Nicolaus & Company served as investment advisor to Carlisle.