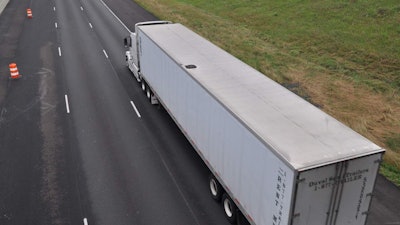 The Federal Motor Carrier Safety Administration is proposing a decrease in Unified Carrier Registration fees for trucking companies, brokers and freight forwarders in 2020 and beyond.
In a notice of proposed rulemaking set to be published in the Federal Register Tuesday, Aug. 27, FMCSA proposes a fee reduction of 12.82% below the 2018 registration fee levels for 2020 "to ensure that fee revenues do not exceed the statutory maximum, and to reduce the excess funds held in the depository." The proposed fees for 2021 would be reduced from the 2018 level by approximately 4.19%, the agency adds.
Carriers with one or two trucks paid $69 in 2018 and $62 in 2019. Under the new proposal, these companies would pay $60 for their 2020 UCR fees.
Fees graduate higher for carriers with more trucks.
Carriers with 3-5 trucks would pay $180; those with 6-20 trucks would pay $357; fleets with 21-100 trucks would pay $1,248; while trucking companies with between 101 and 1,000 trucks would pay $5,946in 2019. Carriers with more than 1,000 trucks would pay $58,060.
In 2021, fees will increase from 2020's proposed level but stay below levels from 2018. Here are the fees for the next two years, compared to previous fees:
Under the UCR Plan and Agreement, the maximum amount of revenues that can be collected from carriers is established at $107.78 million. Fees collected in 2017 exceeded this maximum by $7.3 million for registration year 2018 and are expected to exceed the statutory maximum by $9.17 million for 2019. The fee reductions for 2020 and 2021 are to ensure registration fees don't exceed the maximum in the next two years.
Comments will be accepted for 10 days on FMCSA's proposed UCR fee changes. Those interested can make comments by searching Docket No. FMCSA-2019-0066 at www.regulations.gov when the notice is published in the Federal Register Tuesday.