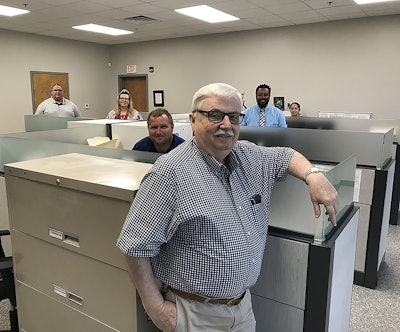 ES, an organization that provides capacity solutions to partner carriers and ownership opportunities to owner-operators and small fleets in the trucking industry, has completed the current phase of its headquarters expansion with the addition of new office space designed for the ES recruiting department.
The company plans for the expansion to support growth of truck ownership opportunities and business support programs for its ES Community members.
"The expansion of the new space for the growing needs of our recruiting department is one of the ways that our company is investing in our future as well as investing in the needs of our ES Community," said Paul Williams, chief executive of ES.
Since 2016, ES has had truck ownership programs and support services tailored for the demands of the truckload (TL) and less than truckload (LTL) sectors.
In November of 2017, ES partnered with the Women In Trucking Association to launch the 150 Business Challenge, an initiative between the two organizations to create 150 women-owned businesses in transportation. Over the past two years, the 150 Business Challenge is fast approaching 100 new trucking start-ups.
"Trucking has allowed me to realize my dream of becoming my own boss, and the opportunity I have through ES and 150 Business Challenge allowed my dream of truck ownership to come true," said Shannon Richert, who is running with Forward Air.
"I quickly discovered ES is a company that you can trust. They will stand with you no matter what's happening in the freight market," she added.
Today, the number of women within the ES Community who are fleet owners, owner-operators or independent contract drivers involved in the programs offered by the company now exceeds 38 percent of the ES fleet.
FedEx, Forward Air and Panther Premium Logistics, a service of ArcBest, have become the top participating motor carriers within the ES Community.