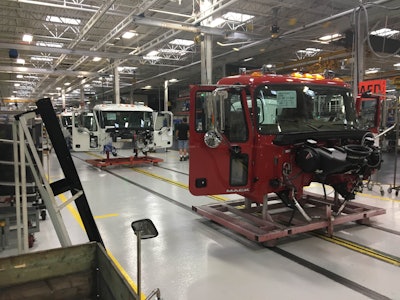 Preliminary North American Class 8 truck orders reached 12,100 units last month, up 13% month-over-month but down 72% year-over-year, according to FTR.
September was the fifth consecutive month with truck orders tracking between 10,000-13,000 units. Class 8 orders for the past 12 months have totaled 214,000 units.
Don Ake, FTR vice president commercial vehicles, said fleets are moving around existing orders – or canceling them outright – and are not ordering many new trucks for Q4 delivery, while tariffs and economic uncertainty loom large over over 2020 orders.
"Class 8 orders have been remarkably consistent, unfortunately, they are stuck at the bottom of the cycle," he said. "It's basically the same story as the last several months: All the orders needed for 2019 were placed months ago and fleets are now adjusting delivery dates and finalizing requirements."
"Little has changed since August with respect to the freight market and freight rates, while uncertainties surrounding trade and tariffs continue to weigh on truck buyers' psyches," added ACT Research Vice President Steve Tam. "Fleet over-capacitization has led to reduced utilization, with all the foregoing considerations conspiring to undermine demand."
Fleets are nervous, Ake said, as freight growth continues to ease back.
"The latest manufacturing and construction numbers are concerning," he said. "The trade issue with China looms. In this environment, fleets see no reason to begin ordering for 2020 until Q4. However, we are returning to normal industry ordering trends after a tumultuous period, and orders should rise in October."