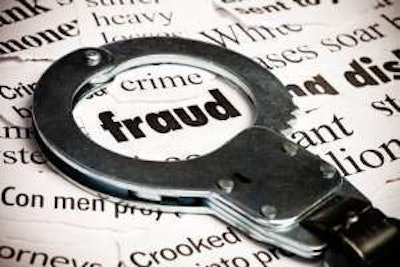 Action in five trucking-related crimes – including a CDL testing scheme, medical certification fraud, falsifying daily vehicle inspection reports and a former FMCSA employee charged with theft – has recently been reported by the Department of Transportation's Office of Inspector General.
Rhode Island trucking company owners sentenced for falsifying safety records
Leslie and Robert Cucino Jr., owners of two refuse and scrap metal hauling companies, were each sentenced to a year of probation and a $1,250 find for violating FMCSA regulations. Robert was also ordered to perform 100 hours of community service.
OIG says the Cucinos caused their employees to falsify daily vehicle inspection reports by directing and encouraging the drivers to falsely certify on DVIRs that the trucks they operated had "no defects," even though the drivers knew there were serious defects. The Cucinos also told the employees to document any observed safety deficiencies on separate pieces of paper rather than in the federally regulated manner.
Truck driver charged, arrested for falsifying DOT medical form
Trucker John Kamau, of Lowell, Massachusetts, was charged Sept. 24 and arrested the next day for allegedly making a false statement on a DOT Medical Examination Report Form.
OIG says Kamau allegedly filled out the form in May 2016, responding "yes" to a question that would have prevented him from obtaining a CDL unless he had an exemption. Based on that response, the medical examiner determined he was not qualified to operate a commercial vehicle.
Then in September 2016, Kamau allegedly filled out a second DOT medical form, submitted it to a different examiner and responded "no" to the question that originally disqualified him. The second examiner determined Kamau was qualified to drive a commercial vehicle.
Former California DMV employee sentenced to prison for fraudulent CDL scheme
Aaron Gilliam, on Aug. 23, was sentenced to 22 months in prison, three years of supervised release and a $100 special assessment fee after being charged with conspiracy to commit bribery, identity fraud and the unauthorized access of a computer.
OIG says that between 2011 and 2017, Gilliam was responsible for processing applications for CDLs at the Department of Motor Vehicles in Hollywood. He admitted that between April 2016 and July 2017, in exchange for money, he accessed the DMV's database and altered CDL applicants' records to show they had passed the written exam when they had either not taken or not passed the test.
At least 57 fraudulent CDLs and permits were issued due to Gilliam's actions, OIG adds.
Former FMCSA investigator arrested for theft of government property
Former FMCSA safety inspector Marcus Mosley was arrested Sept. 30 following an earlier indictment for theft of government property. OIG alleges he failed to turn over government-issued equipment when FMCSA terminated his employment in 2015.
The indictment alleges Mosley used agency credentials, port replicators, an answering system, a monitor, an articulating desk, a laptop computer and printers – all of which belonged to DOT – for his own use.