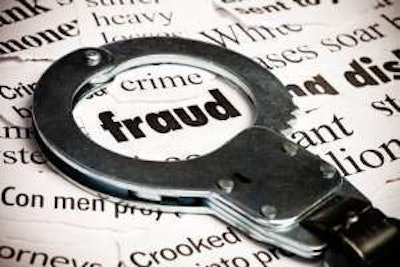 Action in six trucking-related crimes – including CDL testing schemes, medical exam fraud, household goods moving fraud and falsification of safety records– has recently been reported by the Department of Transportation's Office of Inspector General.
Rhode Island trucking co. owners plead guilty to falsifying safety records
Leslie Cucino and Robert Cucino Jr., owners of CDE Corporation and Windsor Hill Hauling and Recycling pleaded guilty June 28 to violating Federal Motor Carrier Safety Administration regulations for their role in falsifying daily vehicle inspection reports (DVIRs).
According to OIG, the Cucinos directed and encouraged their drivers to falsely certify on DVIRs that the trucks they operated had "no defects," although the drivers knew there were "serious safety defects that were required to be reported."
OIG adds that the Cucinos also told their employees to document safety deficiencies on separate pieces of paper, rather than in the federally regulated manner.
RI trucking co. owner charged in scheme to defraud FMCSA
Michael Chaves, owner of CAT Transportation, was charged July 24 with bank and wire fraud, falsification of federal records during a federal investigation, aggravated identity theft and tax evasion.
OIG states that Chaves was allegedly involved in a scheme that created checks from unsuspecting third-party vendors and had the checks deposited into CAT-owned bank accounts, then used false documents to secure a bank loan for commercial vehicles.
Chaves is also alleged to have falsified FMCSA registration documents using the identification of another individual without his or her knowledge to hide his affiliation with another company that was under a federal out-of-service order.
Pennsylvania doctor suspended for falsifying DOT medical exam
FMCSA suspended Dr. Michael A. McCormick on July 7 from participation in federal procurement and nonprocurement programs and proposed his debarment.
A former DOT-certified medical examiner, McCormick previously pleaded guilty to making a false statement. On June 5, he was sentenced to three years of probation, a $1,000 fine and a $100 special assessment.
OIG says that in April 2017, McCormick told his staff at Express Med Urgent Care to conduct a DOT physical on a patient seeking to drive trucks. The staff members, who were not certified medical examiners, completed a DOT medical exam report and issued a DOT Medical Examiner's Certificate under McCormick's name and his National Registry of Certified Medical Examiner's number.
New Jersey moving company owner pleads guilty to HHG scheme
The owner of a New Jersey-based household goods moving company pleaded guilty to conspiracy to commit wire fraud for his role as an owner and operator in a number of moving companies involved in a HHG moving fraud scheme.
Richard Bishara and his co-conspirators jointly controlled and operated a number of moving companies, which were separate legal entities that shared bank accounts, post office boxes, employees and an office space. OIG says the co-conspirators would quote customers low-ball estimates for moving household goods, then raise prices after the goods were on trucks.
Bishara and the others reportedly created various moving companies and registered them with fictitious owner names and addresses. When customers complained about one company, they would shut it down and create a new one, OIG adds.
Georgia CDL examiner pleads guilty, trucking school owner indicted for falsifying DOT exams
James Welburn, the owner and president of American Truck Driving Academy, was indicted July 17 for his involvement in a CDL testing scheme. OIG says Welburn allegedly gave cash payments to Michael Jordan, a third-party CDL examiner that operated in Columbus, Georgia.
On July 19, Jordan pleaded guilty for his role in the illegal CDL plot.
OIG says that in exchange for cash payments from Welburn, Jordan falsified CDL exams for ATDA students.
The alleged falsifications included altering dates on score sheets to conceal that Jordan conducted exams before students were eligible to be tested, conducting more exams than allowable on a single day, and giving ATDA students preferential treatment on the skills portion of the exam by hand-selecting which test form to use when Jordan knew the test had to be randomized.
Texas DPS employee, others indicted for CDL scheme
Texas Department of Public Safety employee Alonzo Blackman, Fernando Guardado Vasquez and Marino Maury Diaz Leon were indicted for their involvement in a CDL scheme.
According to OIG, between January 2017 and June 2019, Vasquez and Leon paid Blackman to falsely certify that CDL applicants passed the skills portion of the CDL test when those applicants had failed or not taken the test.
Blackman allegedly provided Vasquez and Leon with temporary CDLs for the applicants, and DPS later mailed permanent CDLs to the applicants.